Windows Techies are famous for playing with system files to either increase the functionality by replacing the core system files or completely replace with something else. I have seen this happening majorly for Games ( e.g Directx 10 files patched to work in Windows XP ).  However with Windows 7 and Windows Vista taking ownership of files is not easy.
Windows 7 System file replacer lets you take over this and allows you to add any modded files you have for Windows 7 using this utility and on top you can use it to restore safely if something goes wrong.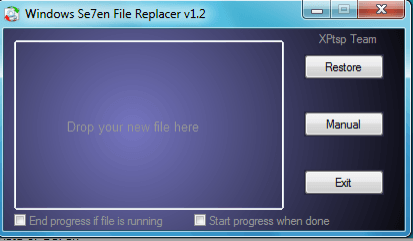 Using this application is very easy. Just drag and drop your modified system file on this interface and it will replace the system file by first taking ownership, backing up the original file and then overwriting it with your version. Handy for customization but strongly recommended for power users.
You can download this application from here but be careful while using it.