Every time you right click to select an app on Windows 8, you get couple of options like remove from start screen, uninstall etc. Out of these one of the option is Run as Administrator which is useful when you do not have permission to run an app in your context. Now what if you are an admin want to test out an app in context to a different user ?
Windows 8 Group Policy Editor has this unique settings for Windows 8 which allows you to add "Run As Different User" when you select an app along with run as administrator.

Steps to Enable this :
Launch Group Policy Editor ( Search on Start menu or type GPEDIT.MSC on Run Prompt)
Navigate to  User Configuration > Administrative Templates > Start menu and Taskbar
Enable Show "Run as Different user" command on start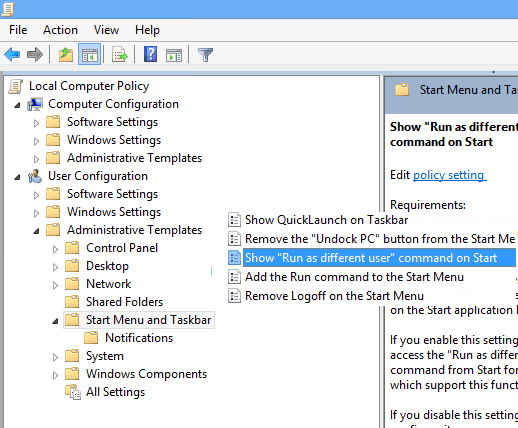 One thing to notice from the description provides that it will work with only apps which has this option enabled for this setting. As an example when I tried running couple of desktop apps, nothing happened, the app itself did not launch. So the option was a let down from what many would have expected but we will need to find and test with apps that implemented this.