Barcode Generator app for Windows 8 is a free Windows 8 App which allows you to generate Barcodes for EMail Address, any URL like Twitter Profile, YouTube and other things like vCard, SMS etc.
Now for a moment you might think, it isn't a big deal which is pretty true but what we really liked about this app is it makes barcode generation easy and very fast. So for URLS like YouTube, Twitter etc , you don't need to type the complete URL, but only the Video ID or the handle, it takes care of the rest of the things.
Another example will be for vCard where you get a form where you can fill in the Name, Email, Phone etc and then scan it using any smartphone which either has barcode reader in built or using any barcode reader.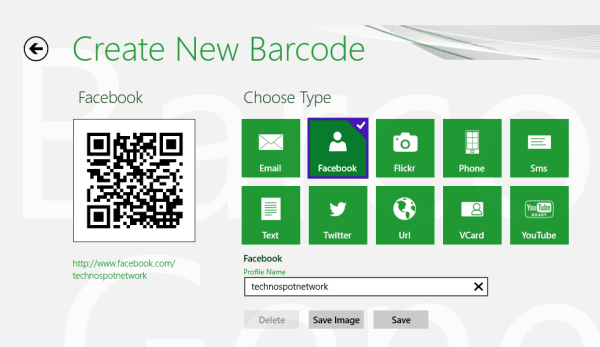 Other Features :
Each barcode which you generate can be saved instantly, and few recent barcodes are kept in history for quick access.
You can save Barcode image on your computer.
The image for bard code is generated in real time. This means if you want to generate it to open on your phone,  just complete the form and scan it to open on your phone.
Suggestions :
The app should allow me to create and manage my set of barcodes which I can reuse and delete if not required.
The recent list of barcodes cannot be deleted.
There is no integration with Windows 8 which means one has to come to the app every time. However with integration available in Charms menu, One could select currently generate barcode for open websites, YouTube Videos or Contacts etc.
The SMS barcode does not work as expected. It should automatically launch the SMS centre with the number and sms text prefilled.
Download
Search for Barcode Generator on Windows Store and it should look something like below