Windows 8 and Windows RT both has the default explorer to manage your file operations. However, since Windows is now more touch oriented, an app version of file explorer, which gives the same kind of look and feel like other apps do, will be a warm welcome by many users.
Windows Store is flooded with such applications, both free and paid, but its hard to find out if the paid versions are just good enough unless you get to use a trial version of the apps. So today, I am picking on two such free apps which brings you nice metroish experience of Windows Explorer in the form of app.
The Apps are My Explorer and File Explorer. Both the apps do more or less the same kind of job and brings in the same kind of experience. So, if you are trying out both you won't be disappointed. Below is the list of features that are common to both followed by some feature which is missing in another.
Copy, Paste, Rename, Delete, Delete with or without permission.
Create Folders
Regular Folder Navigation including Keyboard support
Select All, Clear All for mass selection operations
Stable User experience.
Differences :
My Explorer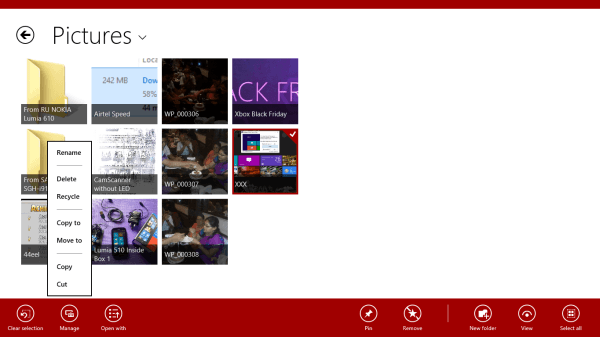 It has Open With Option for a file or folder selected. This allows you to launch the app in different app than the default one.
Better details shown when you choose detailed view. This includes information like Size and Modification Date.
Options like Copy to and Move to are pretty powerful as you can skip the extra step and directly switch and navigate to different folders.
When switching view, the selection is retained.
Menu is less distracting as the file operations are bundled into one menu.
Comes with Dark and Light Themes.
You can switch folder looks to Windows Default or Metro Style Icons.
If you prefer to use any particular folder all the time, you can set it as Launch Folder.
Local Files :
The UI is pretty close to what you see in File explorer. The size of icons and readability is much fine tuned which results in less wastage of space.
If you prefer direct option to be available as you select files, this app does a great job for that.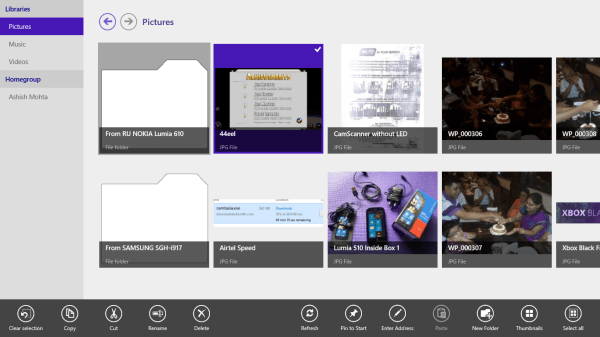 Installing the Apps :
Please make a search by name of Local Files and My Explorer in app store or use the start screen and select store from the options.
At the end, I would like to ask you all, "Which App do you use ? Do you prefer an App over Native explorer ?" Let us know in comments.