Windows 8 File Explorer is a major area of interest where most of people like you, and me will be interested and the good news is that you wont be disappointed.
Starting with Windows 8, I hope it continues, File explorer has become aware of what you do next when you open My Computer, Select a Drive, Select a File or even how you want to view the file
Here is how we will explore and understand the Explorer :
Ribbon Menu Integration
My Computer
Views
What Happens when you select a File or Folder.
Sharing
Copy and Move
Ribbon Menu Integration :
If you are already using Microsoft Products like Office 2010, Ribbon does not need an introduction but for the unknown its a wide menu area which can carry a lot of options for you resulting in quick access to features. In the absence of Ribbon menu, we have used a lot of right clicks to achieve the same thing.
If you are worried that because of this menu, lot of space will be wasted, then be aware that this menu is collapsible hence takes the minimum space.
Another interesting thing you will notice is the availability of UP Button, right next to the address bar. Though you can always use backspace, this one takes you up the folder hierarchy where as backspace was for the last place visited.
My Computer :
This place, like we all know, displays list of drives, connected drives etc and there where few reasons to come here. Mapping Network Drive,  System Properties etc.  This is all now integrated in the Ribbon Menu.
When none of the drives are selected you get option to Control Panel, Computer Management tool, Uninstall Program, Properties.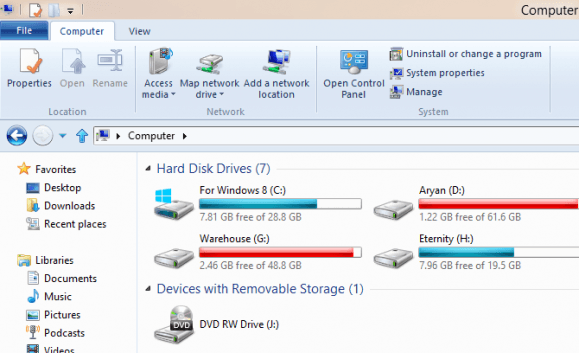 When you select a drive, a new section pops in, labelled as, Disk Tools. This gives you direct option to Bitlocker, Defragment, Clean Up and Format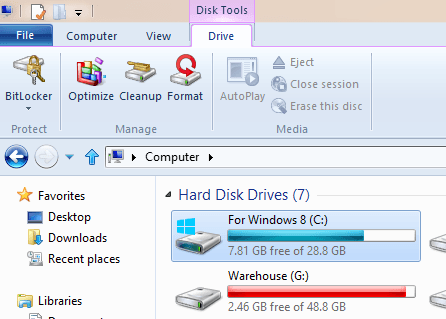 If its a CD Drive, You have options for Eject, Auto Play, Burn , End Session etc.
Views :
Though I am not big fan of views and mostly use the right click menu, but now with Views, which helps you in filtering and taking a look at the folders easily.
You get one click access to all type of views i.e. Tiles, Detailed etc.
Option to Hide Navigation Pane.
Sort By and GroupBy
And Option to Open the Folder / File Properties.

What Happens when you select a File or Folder :
You can copy path of that particular file or folder.
One Click option to Move to or Copy to commonly used folders like Video, Download etc
You also Get "Open With" Option which will display the list of application the file is associated and also to choose any other application using the regular browse.
You can also check the history i.e. Previous version of the files since you modified it last.
You can even launch a file in Edit Mode if the default application associated with it allows.
Folders can be pinned to start screen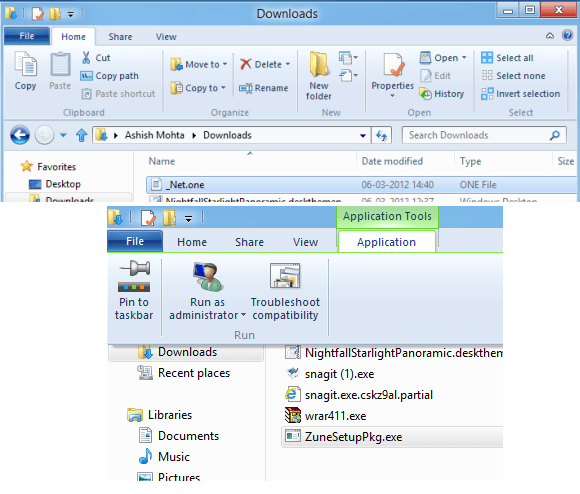 The magic really happens when you select certain types of files :
Executable : You get Application tools, using which you can Pin to Task bar, Run as Administrator and troubleshoot compatibility.
Libraries :  You get specific type tools i.e. Music, Video, Picture tools apart from Library Tool, which helps you manage them.
Sharing :
This particular feature is going to be a blast for Windows 8. We all know by now that Windows 8 like Windows Phone will be people centric or will have Social integration built into it but, since its not a phone but all your data stays here, it also allows bring in Application Communication.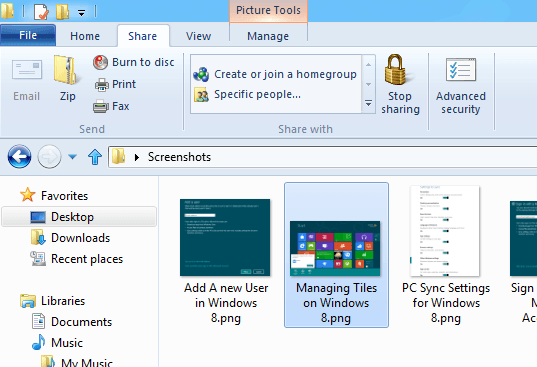 This means that it will be possible for one app to communicate with another app here, and File Explorer gives you a small window to that.
When you select a folder, you can instantly use the Share Menu to share it with specific people or in Home Group and you can stop doing that in one click.
You can Fax, Zip, Email or Burn.
You can open a picture in an App and from there you can Set it as Lock Screen, Set as App Tile and so on.
Copy and Move
File Folder Copy and Move functions have drastically improved in this version of windows and, if you want to thank anybody, say thanks to all copy management tools like RoboCopy, TeraCopy etc.  We will come out with a detailed post on this but, for you to start when you copy or move files from one folder to another :
File Conflict Resolution feature which will give you a preview of the files in conflict, clear view of files from source and destination.
While a copy is in progress you can pause the copy or move process, you get to see a graph which gives you an idea on how fast the process is taking place, details on items remaining, time remaining which is more reliable this time.
Multiple Copy processes are grouped together.
Small but significant changes :
The UP navigation button from XP is back.
Open Command Prompt with / without admin privilege can be launched from File menu of Ribbon.
Show or hide favourites is available under View > Navigation Pane > Dropdown.
You can mount ISO files directly without the need of virtual CD Drive which are one of the most popular software.
Also, you can now mount VHD files as disk drives and make changes to files. This means if you need to copy files into them without booting from there,  you don't have to boot into it first.
While there is lot more to cover in File Explorer in Windows 8, this is good enough to get started with few basic things. We will see what else needs to get attention and come out with detailed post on that topic. If you have anything in particular, let us know.