Starting with Windows 8, and now in Windows 10 there is a native Backup and Restore feature which allows you to regularly back your data into an external drive and restores if you accidentally delete the file or damage it. This feature also includes version support and comprehensive logging system which helps you find out issues with failed backups. Apart from this, you can also use this in your HomeGroup, allowing family members, centralizing the backup. In this post, we will share how in Windows 10 you can backup and restore files, folders, and drive using File History.
Windows 10: How to Backup and Restore Files, Folders and Drive using File History
Requirement
Setting up File history
Excluding Files and Folders.
Testing Backup.
Testing Restore.
Advance Settings
Related: How to backup/restore Windows 10 App Data
1) Requirement
Windows 10 Computer
An external drive of size enough to backup your data., though there is no restriction on the minimum size of the external drive here. Make sure the external hard drive is connected and visible to your computer. It can be over a network or directly connected.
2) Setting up File History in Windows 10
Type in File History on your Start screen, and you should see it listed under Settings. Once launched, you should see your hard disk listed with one of the partitions already selected.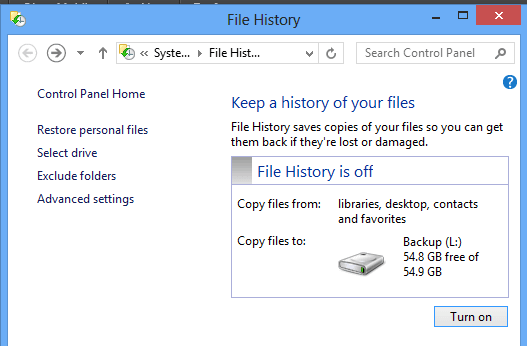 So if, you are not sure, first change the drive by using the select drive option on the left. It will list down the available partition, and you can choose any of it.  Also, here, you can choose to select a network drive if that's what your storage location has to be.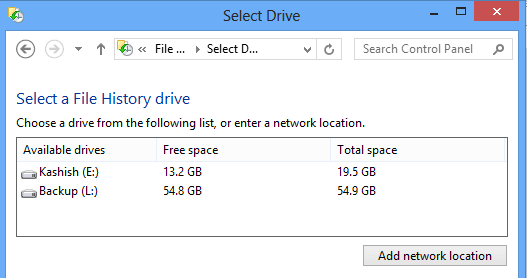 What not to backup?
Before we go and turn it on, decide what you don't want to backup. It will make sure your backup completes faster, and you don't waste unnecessary space on your storage device. You will be able to add Drives, Folders, and Libraries as an exception.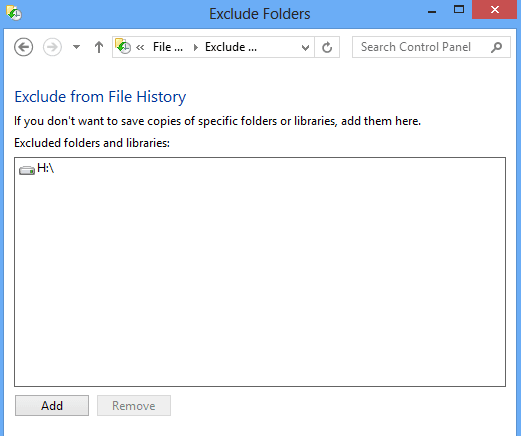 Though many of you might have preferred an option to set what to backup instead, backing up everything on your computer might be a better solution in general.
3) Test Drive File History
Done that, its time you need to test it out. So go back to the File History mane page and click on the "Turn on" button and it will start backing up your data instantly.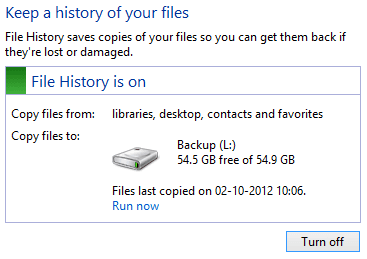 You can also make sure by checking the Hard Drive you're selected to take the backup. See if your computer name and your user name is listed. It will also have data inside it. Here is how it is organized.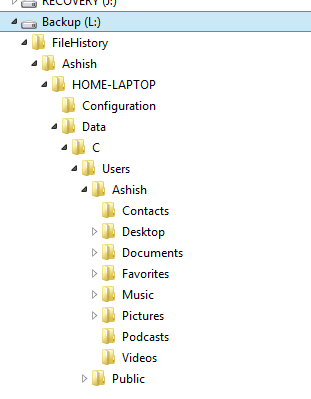 The data is visible in the exact format as on your computer, i.e. This means there is no encryption, and anybody having access to this will have access to the data.
4) Restoring Files in Windows 10
No backup is perfect unless you can restore it. File History has an excellent restore user interface which gives you file-level access to choose what to restore.  So it can not only bulk replace files but can also restore individual files.
Use the Restore Personal Files link on the left pane to open the interface. You will be able to view all your folders, by date. Each of these folders can be browsed and previewed before restoring.  When it comes to restoring, you can either restore to the original location or to anywhere else you want to save it. It is also possible to search the backup for a file if you do not remember the name or location of the data.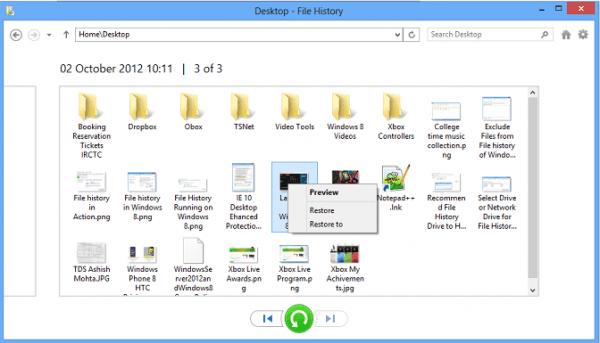 5) File History Advance Settings in Windows 10
Now let's take a look at various settings for file history, which will help you, to control the size of the data being backed up and also help you troubleshoot in case of problems. Click on Advanced Settings link on the left pane of File History.
Versions :
Decide how often the backup should take place. I would recommend you to set a daily backup for regular users. However, if your priorities are different, you may choose from every 10 minutes to every 12 hours. It can be useful if you are working on real-time data.
Offline Cache: Choose between 5 to 20% of disk cache. The cache is there to locally store the changed files in case the backup drive is disconnected. As soon as it is reconnected the cached content is moved over to that drive initially set up.
How long will you like to keep the saved version? If you are running out of space, you may choose to auto-delete files every few months or set it to delete, when there is some space required automatically.
Manually Cleaning up Saved version of File History :
Right under where you choose for "Keep Saved version," you have an option for deleting the saved version manually. Hit the clean up versions link, and it will give you the option to delete files which are a year old or a month old or delete all except the recent one.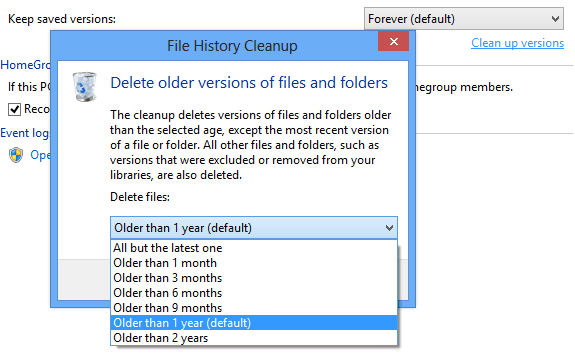 HomeGroup :
Like I said in the starting, you can set this drive for other users to use it as the backup storage. Its a great option when you have a lot of computers in your HomeGroup.  They will be shown this drive as the recommended drive for backing up data when they set File History for the first time.
Error Logs :
In case you see errors like Drive Disconnected or File not backed up, Event Log for File history tells you everything.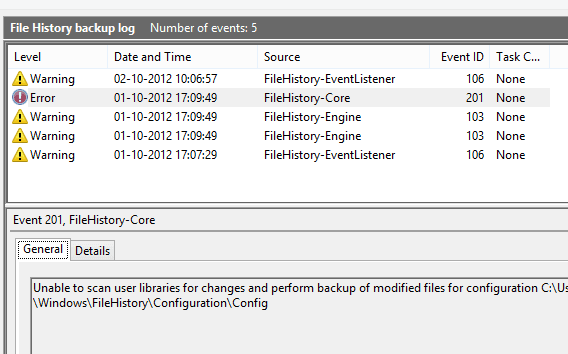 Summary
File history is an excellent option to backup your files, which is not only easy to set up but also easy to restore for every user. However, this is not an equivalent to System Restore or System reset which can fix your computer from any driver or slow performance issues.  Also, since the files are not encrypted, make sure to keep the drive off from people you do not trust.