Windows 8 Explorer view is pretty simplified compared Windows 7. It seems to be not listing many folders, Devices by default, even if you expand the collapsed folders.  Most importantly I saw the Favourites and the Desktop icon was missing from the explorer view.  Both of these were important for me as it was easy not navigate to those folders which I visited often.
After looking around at lot of wrong places when I checked on the Folders Option of Windows Explorer, there are few settings which I required to enabled to get back how it was or at least the Desktop and The favourites. So to enable this :
Launch Windows Explorer
Expand the Ribbon Menu and switch to View Tab
Select options > Change Folder and Search Options
Under General Tab > Navigation Pane you have two options to try. One is  Show Favourites and other is Show All Folders
Show Favourites  will get you the Desktop Back and show folders will bring back the DVD Drive Icons,  Media Networks, Recycle Bin and also the Desktop which becomes the top folder here.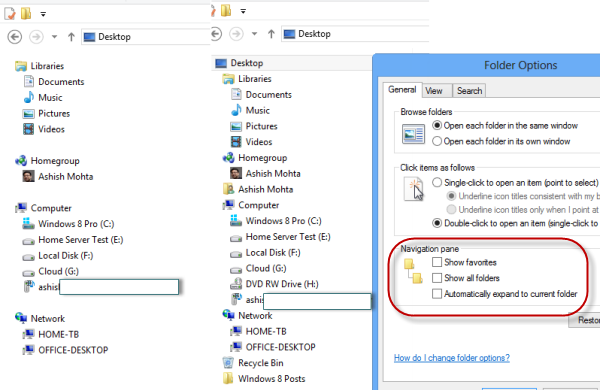 What if you do not want to enable favourite and still want to access ?
If you had noticed, Windows 8 Homegroup displays your picture right there with your name under it. Click on that and it will list down all the computers connected to homegroup. Select yours and then you will see your Desktop is available right there. Though it seems to be shared but its because you are the owner, you get to see it.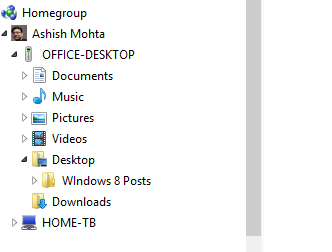 Remember this will appear only when you are connected to Homegroup which appears automatically in Windows 8. If you leave the homegroup and do not connect to any other homegroup, you will not be able to access it, this way.