If you have been using Windows 8 for a while, you must always be wondering why there are a fixed number of rows for your PC or Surface while some of your friends have additional two rows or sometimes fewer. Today we are going to help you understand this idea and also provide a solution to increase the number of rows if you cant using the default way to add more apps to your start screen.
Warning: Though its best to stick with what you have because having more apps pinned will distract you even more, and if they all are live tiles, you can also get confused.
Number of rows in Windows 10 Start Screen entirely depends on two things,
Monitor's Physical Size
And its Screen Resolution.
The higher it is, the more rows you will have, but then there is a combination to both of them. For example :
A 10. or 11.6-inch screen at a resolution of 1920 x 1200 will have four rows while a 13.3-inch display at same resolution will have six rows.
Again a 10. or 11.6-inch screen at a resolution of 2560 x 1440 will have three rows while a 13.3-inch display at same resolution will have five rows.
A complete table for Screen Sizes from 10.1 inches to 23 inches and Screen Resolution rom 800 X 600 to 2560 x 1440  is available. So if you want to change the number of rows without using any software, check if your screen size and resolution can help. I guess now its clear why Surface Tablet has less number of rows than anybody having a bigger monitor.
Windows 10: How to increase Start Screen App Rows
1] Inbuilt Option to Show More Tiles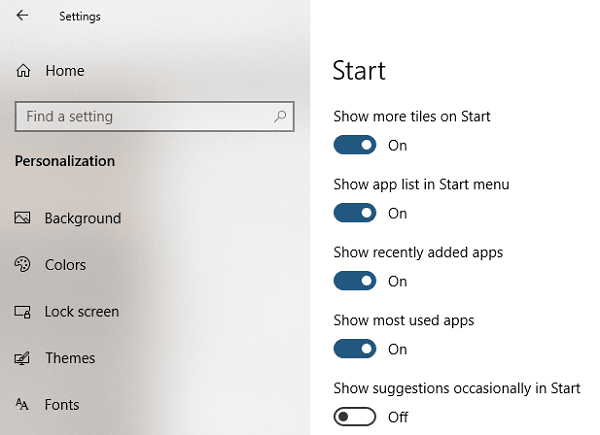 Now if you tried out screen resolution of 1920 X 1080 or more, I will suggest you check if you get to see this option enabled.
Open Settings using WIN+I
Navigate to Personalization > Start
Toggle on the option which says Show More Tiles. It can help you increase the rows to around 6.
2] Using Registry
Open registry editor by typing regedit in the Run prompt.
Navigate to HKEY_CURRENT_USER/Software /Microsoft/Windows/CurrentVersion /ImmersiveShell/Grid
Right-click and create a new DWORD (32-bit) in the Grid
Rename it to Layout_Maximumrowcount.
Double click on it to edit the value, and set it to the number of rows you want.
Restart the computer to see the changes.
Any of these tricks will help you increase the rows for tiles in the Windows 10 Start menu.