Every Windows user loves to have a picture of different style and  in Windows 8, it is now possible to have a small video clip as your account picture apart from the regular picture. Even though Windows 8 allows this, you can only have a video clip of only five seconds. To setup the video follow the steps below :
If you are on start screen, select your profile on top left and choose "Change Account Picture"
This will take you straight to the personalize section of control panel > Account Picture.
Next select Camera App which is listed under "Create An Account Picture" ( So yeah, You need to have a webcam for Video).
Once the Camera App launches which will use your webcam, change mode from picture to video.
Make sure you look GOOD.
Tap anywhere on the camera app and it will record the video. Tap again to stop.
Once done, you will get to see the preview.
Next you will be returned back to the Account Picture section where you will get to see the five second picture.
Once done, if you go to login screen, you will get to see the animation but it will only play once, unlike GIF images.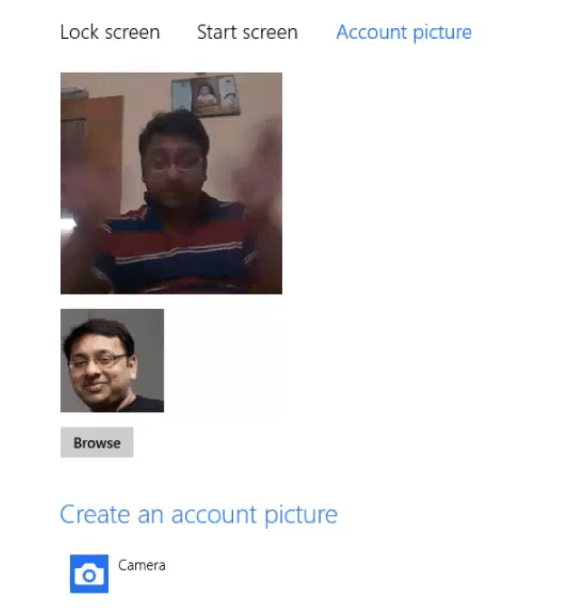 Now here are few things to remember :
Whatever you set here, will sync to your Windows Phone & any other Windows 8 PC. It will even show up on your live messenger.
No matter how long your video is, it seems to be taking 5 second from the start.
You can have any number of video picture in the recent history.
Video Demo :