Starting with Windows 8, and now in Windows 10, it is possible to monitor data consumption even over a WIFI network. However, many WiFi Network has a limit, and if you are connected to one such network, you do not want Windows 10 to use unnecessary data by downloading significant updates. In this post, we will share how to set WiFi connection as a metered connection but keep downloading Windows Updates.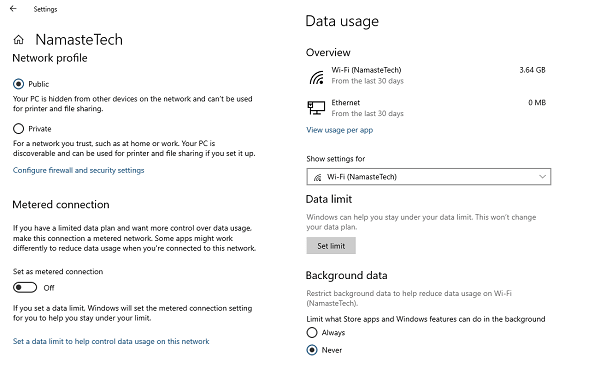 Windows 10: How to Set WIFI as Metered Connection
Windows 10 default behavior treats any WiFi with unlimited data usage, which is not the case in most of the scenarios and can be changed using a few options.
Open Settings (WIN Key + I >Network and Internet options > Show available networks.
Right-click on the network you want to set as metered and choose Properties.
In the properties section of the selected network, enable the toggle, which says, "Set as metered connection."  To reverse this, repeat the same steps and toggle off.
In the same place, you have the option to set a data limit for the network. It helps you to keep a tab on data consumed by the computer on that network. When on a metered connection, some of the downloads, i.e., Windows Updates, are automatically paused until you connect to non-metered connection. Also, it boosts your internet speed without the need for WiFi extenders.
How to manually turn on Windows 10 updates on a metered connection
Now in a situation where your Desktop is connected to a WIFI network at home or office, and it is the only network, it will ever connect to, getting the updates will become critical, and you will tons of updates pending.
Go to Settings > Update & Security > Advanced options
Toggle on the option which says, "Automatically download updates, even over metered connections."
Turn on Windows 10 Updates via Group Policy Editor on Metered connection
Type gpedit.msc in the Run prompt and hit enter key to open the Local Group Policy Editor.
Navigate to the following path : Computer Configuration > Administrative Templates > Windows Update
Look for a policy with name— Allow updates to be downloaded automatically over metered connections policy.
Enable it, save and restart the computer.
I hope the tutorial was easy to understand. Using this, you can make sure bandwidth is not overused, but updates are still downloaded.