Taking a screenshot of Lock Screen and Login Screen has no option even though Windows 8 has an inbuilt way to save screenshot of your current screen. Though not required all the time but if you had special need to either test a software, show up a feature or want to show off your Lock Screen, Windows Club has released a Ease of Access Tool which allows you to do the same.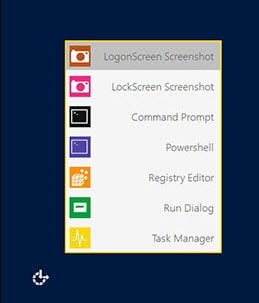 This portable application once launched,  replaces the Ease of Access utility which often shows up on the lock screen on left hand side.  The replacement results in addition of few tools like :
Logon Screen Screenshot:
Lock Screen Screenshot
Command Prompt
Powershell Prompt
Registry Editor
Run Dialog:
Task Manager
The tool replaces the default EOA tool of Windows. I will highly recommend the developer to allow user to tell that, and also provide a way to restore it back.
Few things you should know :
The Default Ease of Access tool has quick access to Narrator, On Screen Keyboard, settings like High Contrast etc which is required for some users. So if you use it or any of your friend or family use it on your computer, better not replace it.
When running it for the first time, you might get a warning saying :
"Windows Smartscreeen prevented an unrecognized app from starting. Running this app might hurt your PC
In this case, right click on the EOAR.exe file and select unblock. Windows Makes sure that all the exe are blocked by default.
Taking screenshot of Lock Screen will take over a minute as it emulates lock screen enable and disable.
The tool creates a restore point automatically. So if you face an issue, restore back.