Windows 10 offers the Mail and Calendar app where you can configure multiple email accounts. Many of us use signature in their email, and it works only when the email client supports it. In this post, I will share how in Windows 10 Mail you can change or add a signature for all the emails and add emoticons in the signature.
Windows 10 Mail: How to change Signature & use Emoticons in it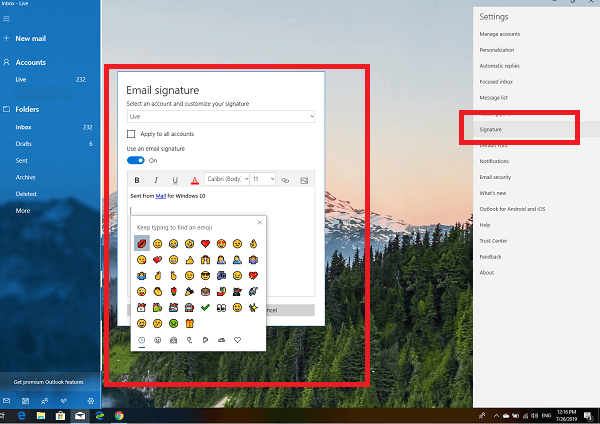 Launch the Mail Application.
Click on the configuration icon available at the bottom left, and then click on the Signature option.
It will open another window where you can choose any of the account configured from the drop-down.
Type the signature in the rich text box. You can add links, colors, and so on.
Click on Save. If you want to use the same signature on all email accounts, check the box which says —Apply to all accounts.
Next, open a new email, and your signature should be loaded up.
How to add an Emoji in an email signature?
When in the signature box, press WIN + . to open Emoji box.
Now you can choose any of the emoji, and it will become part of the signature.
Earlier, we had to use shortcuts, which was auto recognized, but not anymore.
The same applies to all the email clients from Microsoft, including Outlook, Mail, and even Office.
That said, there is no way to add multiple signatures in any of the Email clients in Microsoft Office or Mail client on Windows.  Since many have multiple profiles when connecting with a client, there is a need for multiple signatures.  There is way out of it though. You can always copy Signature from another email using the above steps. and manually paste it at the end of the email. Its not perfect, but if you need, there is a workaround.
We how the tutorial helped you to understand how in Windows 10 Mail you can add or change signature for all the email accounts configured.