A good news for all Windows users having tons of monitors setup on the desk, Windows 8 is coming up with some cool enhancements which will make you productive and also let you enjoy wallpapers smartly!!!.
Well Jokes apart but with the announcement made by the official blog posts on the Windows 8 Wallpaper, Multiple Windows Support and Taskbar enhancements,  most of the users will not need to have third part apps for these kind of requirement. According to the stats gathered 14% of desktop PCs and approximately 5% of laptop PCs have run with multiple monitors.
PS : It seems the official post is not available when I am already done with the post. I was reading it via the feed where it is still available along with the images.
If you remind yourself here are few problems we always had when using multiple monitors :
No Wallpaper support to span across all the monitors.
Taskbar was not available in all the monitors and since apps had their foot always on the taskbar, accessing them was only possible from first monitor or the primary monitor.
Start Button is only available with primary monitor.
So now starting with Windows 8 many of these questions and problems have been answered and for most of the users this is a warm welcome.
Wallpaper Enhancements :
When selecting Desktop Wallpaper, you will have option to specify which wallpaper will be used on which monitor which means if you have monitor in landscape mode you can choose wallpapers appropriately. However this is automated for slide show running on multiple monitor as it chooses wallpaper according to the Monitors Orientation.
Inside the theme you have now Span option for Wallpapers which will make them spread over across desktop, specially useful for Panorama Themes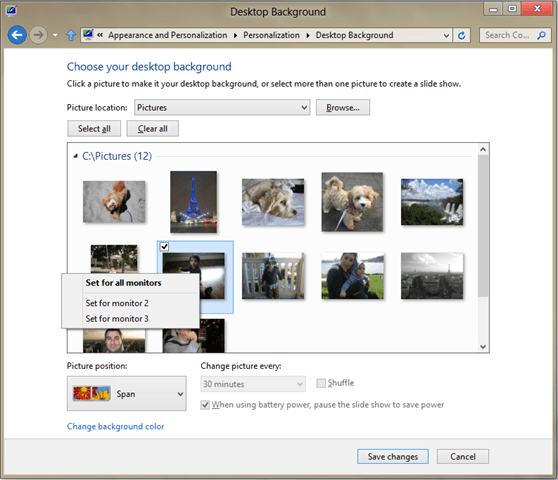 Task Bar  Enhancements :
Taskbar is now available on all the monitors and this can be configured according to your need from the Taskbar Properties option. For example if you do not want to have Taskbar getting displayed where you do not have any open window, you can choose that but if you find it confusing you can have taskbar everywhere. The third option in this case is have taskbar only when you have an open window which is for more advanced users who are pretty organized and can remember location of their Windows.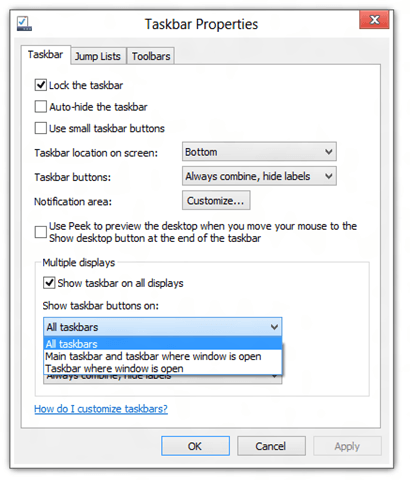 Start Screen and Charms Menu Enhancements :
In the release preview of Windows 8, Both Start Screen and Charms Menu was only avail with the primary monitor but this has been taken as feedback and you will see it appearing on every monitor with an update or probably in the final release. Start Button can be seen by moving the mouse to bottom left of every monitor.

Launch Apps from Any where
To launch apps and switch between apps, you dont have to switch monitors. Windows 8 will give you option to switch to any app which is on any monitor by using the thumbnail switches which appear when you move your mouse to top left corner.  Apart from this you can always use Keyboard Shortcuts, Drag and Drop and Start Screen.
Using Mouse over Shared Monitor Edges :
Any avid Multi-monitor user knows how he has to be careful when moving his mouse over the edge of the screen, specially when there is  monitor on left or right. You don't want to move your mouse to the second monitor accidentally which happens often. Keeping this problem in mind, Windows 8 team have come with a solution using Fitts Law which says " The farther away a target is, the longer it takes to acquire it with the mouse and The smaller a target is, the longer it takes to acquire it with the mouse."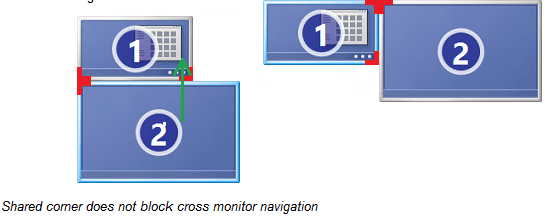 So in Windows 8, the team, has created software corners which appear only when you are actually on the edge of the two monitors and not just moving your mouse to different monitor. These corners are called as Shared Corners.
As per the Windows 8 team Blog post, there are many more enhancements coming so keep an eye on the official blog and here is the video demonstrating all the features.