Windows 8 Games section will be one of the attractive section for kids and if you have ever kept your account logged in and unattended, quite possible, that your kid or anybody else might buy a game accidentally. So just to make sure you don't get into trouble, Xbox App & Windows Store has settings in place which you can turn on to protect accidental purchases.
Steps to follow :
Launch Xbox App
Press WIN + I or open settings page by using the charms menu.
Select preferences
Turn on setting which says "Ask me to sign in before completing purchases, and managing my account"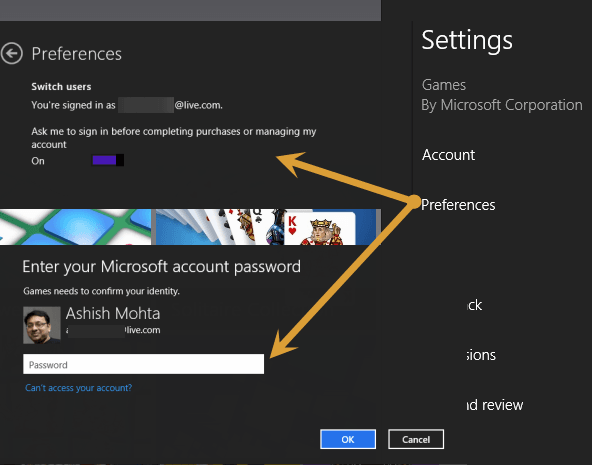 The last part of the statement is very important. Xbox App lets you manage your account from the app itself i.e. You can add or remove payments etc. If you have a CC attached with your Account, the last 4 digit and type is visible. Apart from this your account information is also available. I am sure you do not want this info to get out, so better keep this option enabled.
Windows 8 Store :
Luckily Windows 8 Store has this setting turned on by default which means all your App purchases are already secure. However, if you want to cross check follow the steps below :
Go to Windows Store
Press WIN + I or open settings page by using the charms menu.
Select Your Account
Make sure the option "Always Ask for your password when buying an application" is turned on.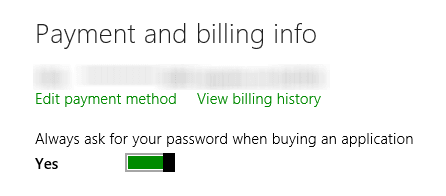 The same section gives you access to edit payment method, and billing history. So better keep it enabled.