Starting Windows 8 now it is possible to re install the Operating System using System refresh still keeping the apps installed, files intact and no loss of personal data. The second in this trend is System Reset which is useful if you want to do a clean install, or planning to handover the machine to a new person.
One of the common issues which many users face after continued usage is Windows getting slower, heavier and bulkier which ultimately results in Re installation of Windows again followed by  re-installing the software back. We always recommend in Windows 7, that you create a s system image disc ready using Robo Copy as soon as you are done installing everything, but now with Windows 8, we will not be doing it at all.
This guide is part of out series of Windows 8 Videos, Tutorials, Apps and How To
What is System Refresh
System Refresh is kind of breathing new life in already existing Windows Installation. It resets your PC or Tablet to default settings, replace any broken files or not working scenarios with what is working.  During this process, it keeps all the files, apps installed from Windows Store, etc intact.  You can consider this as good as re installing an Operating system but much faster as it saves a lot of time for you.
What is System Reset
System Reset is starting from scratch type. Once you perform it, this will clean install Windows, and will ask for License, PC Settings, and you will need to create a user id again. In this process, it will delete all your personal files like Photos, Apps, Videos etc.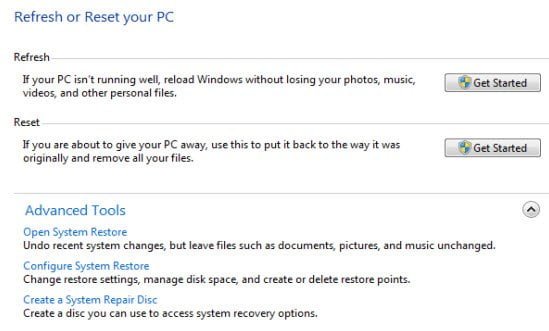 How to use it ?
In the start menu, type "Recovery" or Go to Action Center, and you will see the Recovery Menu at the end.
Here, you have two options System Refresh and System Reset.
Both will do a couple of reboot during which operations are performed depending on what you choose.
The only difference between two is in Reset you will be asked for Windows Key Again, but in System Refresh nothing is changed except that you should have a smoother Windows installed.
Additionally you also have System Restore in Windows 8 but, I will strongly suggest not to use this over System Refresh. The only reason is System Restore many a times results in loss of files and programs which were installed past the date.
What is Maintenance Mode ?
One good thing about Windows 8 is that you get to see less of announce and popups. Windows 8 has this Maintenance mode which takes care of Installing Updates, Drivers, Scanning for security purpose etc when your machine is idle and not when you are working. This makes sure that you have smoother experience. It is possible to set Maintenance mode to run when you want and it can turn your PC on for doing this if you have auto login turned on.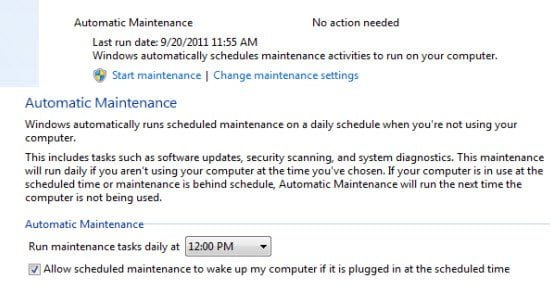 Video Demo of System Refresh / System Reset and Maintenance Mode in Windows 8