Microsoft has updated its Windows 8 Themes section with some fantastic news theme which catches up with the latest events. The most catchy are the Halo 4 Heroes &  GTGraphics 2.
Halo 4 Heroes : It showcases the most awesome Xbox Game Characters from Halo 4. Showcasing Master Chief, Cortana along with other members in the classic Spartan Suits. Download Now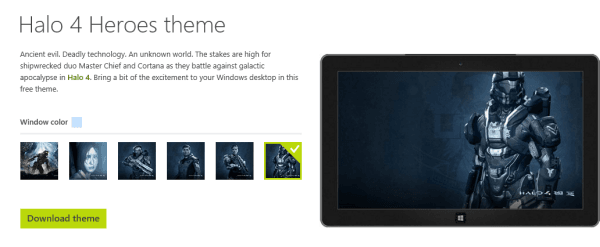 GTGraphics 2: This is a collection of the most fascinating images from gtgraphics.de which captures moments from space. Download Now
Cougar Mountain Zoo: If you love animals, then behold Cougar Mountain Zoo Theme which brings the secretly captured moment of Wildlife animals posted at http://www.cougarmountainzoo.org/. You can find the
Bengal Tiger, Bagheera

Rio and Pata, Blue & Gold and Green-winged Macaws

Cougar, Keira

East African Crowned Crane, Pua

Swamp Wallabies, Bracken and Hemlock

White Bengal Tiger, Vitez and many more.

Apart from this you can find Theme for African Wildlife, Ancient Egypt, ASUS and Intel: In Search of Incredible 2, Caribbean Shores, Garden Life 2, Glaciers Panoramic, Jack Reacher and many more.
These themes contain high resolution wallpaper, Theme Colour and is compatible with Windows 8, Windows RT, and in Windows 7 Home Premium, Professional, Enterprise, or Ultimate editions.
Thanks @dovellonsky for the tip. Via NeoWin