If you are pretty much disappointed with Skydrive App for Windows 8 and Windows RT because it lacks some of the features, Skydrive RT Sync brings you local folder sync.
The app scans any set of folders on your computer and sync with Skydrive and updates where there is a change in file size of modified date.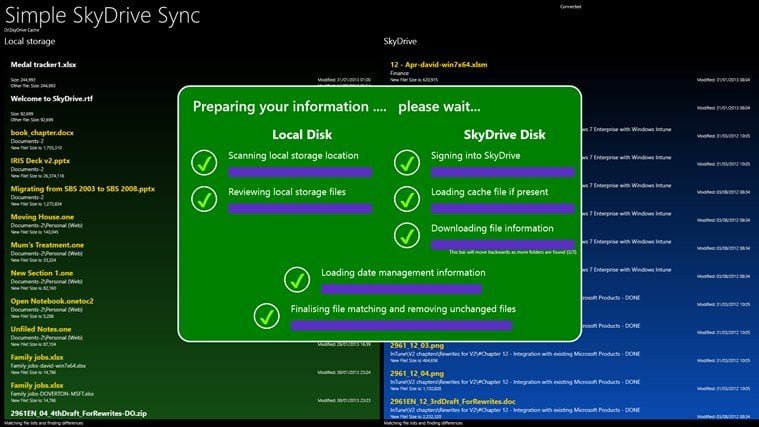 Features :
Make sure to check the keep screen active option. This important when you are syncing any file.
Supports Drag and Drop.
It has two column view (remember the old days of Double Explorer!!) which gives you a clear idea on which files are already on the skydrive and which are not synced yet.
You have clear control option to Select Local Files, Sync Dates and select local files on Skydrive and Local both. These options are for both the columns.
The Sync Date control comes in handy  if you been copying files individually to Skydrive and Local Folder. This will help the app identify that they are same.
Option to Sync Both or one way.
You can identify files if they are being synced by looking at them. The colour changes and show up as progress bar.
According to the author, The first scan will be slow as it takes time for the app to figure out everything. However after that it can scan 10GB of data on Skydrive in fifteen minutes. Possible that's it follows the incremental scan.
So let us know how your experience was with the app and what else would you like to see in future. Download from Windows Store.