Windows 8 Lock screen allows various apps to connect with it to add notifications like Email, Missed Skype call etc. which helps users to know if something happened around with the most important apps they use.
In Windows 7 and Windows Vista, one of the most used software was Sticky Notes which was mostly used with widgets to display important things. Sadly, There is no widget support in Windows 8, and every thing falls on the lock screen and live tiles.
Today we are introducing Windows 8 users to TuneUp Incredilock App which brings in the sticky notes back in action. This app allows you to  add notes to lock screen along with a wallpaper of your choice.
How does it work ?
It exploits the idea of Lock Screen Background changing capability and merges Notes and Picture of your choice to create a wallpaper which is displayed on the lock screen.  Result is pretty good, you not only get to see notes on lock screen but also a beautiful wallpaper of your choice.
The only limitation right now is that it is restricted to just one Sticky Notes, but its pretty big to accommodate a lot of important items.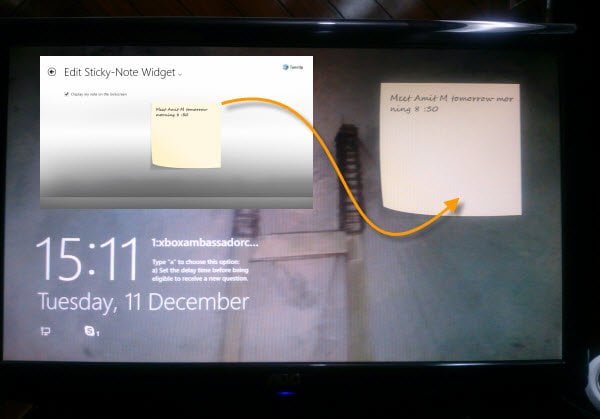 How to use it ?
Once installed, launch the app and select a picture.
If you want to use picture of your choice from your media library, activate picture library.
Once selected swipe to next section which says TuneUp Widgets. Select Sticky Note.
This will take you to edit section of Sticky Note where you can enter the details of notes.
Once done, it will appear on your lock screen.
What else you can do ?
Select a picture from the app which is collected from different resources.
Use your own picture library.
The app is also due to update and bring in features like Weather Preview, Calendar Preview and Picture Preview. Since the app is free, I will suggest you to download it right away.