Though Windows XP is almost dying off but if you still have one because you have a lot of legacy apps to be migrated, You can still taste the look and feel of Windows 8 with the theme just made for Windows XP. This theme is developed by hamed[email protected]. ( This theme has been removed, So I will suggest to use this theme which works on Windows 7 Also )
Video Demo :
Screenshot :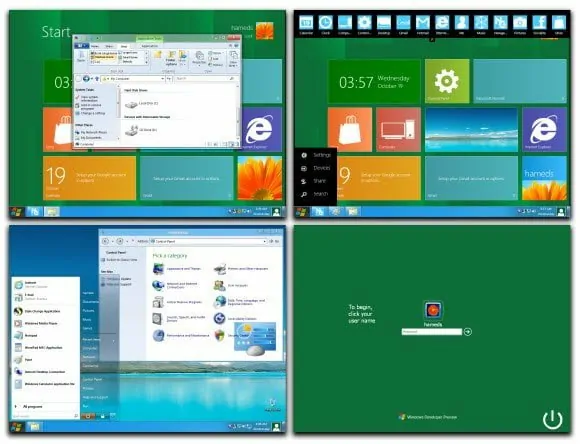 Features :
You get the Windows 8 Shell, Icons, Logo, Login Screen, Boot Screen, Start menu, Start Screen, Live Tiles, Share Bar
With windows 8 taskbar skin, Ribbon toolbar. It almost replicates what Windows 8 Developer Preview has to offer in terms of look and feel.
How to Install  :
First Make a Restore Point so if something goes wrong all you need is restore back.
Download the theme from here. Link is on right hand side.
After this it will install UX Theme Patch and lot of other DLL will be patched. This is the reason I asked you to create a restore point.
Next the computer will reboot and you will have a lot of features of Windows 8 right there.
Now it is possible that this might not work on all the Windows Xp installation because of hardware limitations. I have seen one failing for me on an older machine but worked on a new machine. As the apps and DLL need bit of hardware or high-end rendering, it may so happen with you.
Related : Check out More Windows XP Theme Collection