Automatic Maintenance made its debut in Windows 8 and is available in Windows 10 as well. In this post, I will share how to perform automatic maintenance in Windows 10.
What does PC Maintenance mean in the broader term?
Disk Fragmentation, Running Anti Virus Scan, Cleaning up temporary files, running Windows Update Manually, security scans, etc. The name can be many, and we had been doing it all manually one after the other or using verity or third party tools.
Windows 8/ 10 brings in a new feature, Automatic Maintenance, which allows to run all these tasks in batch and perform it for you. The best part, it does not impact the user's performance and honor rules.
How to perform Automatic Maintenance in Windows 10
Where to find Automatic Maintenance?
What is exactly happening?
How to schedule Automatic Maintenance
Where to find Automatic Maintenance?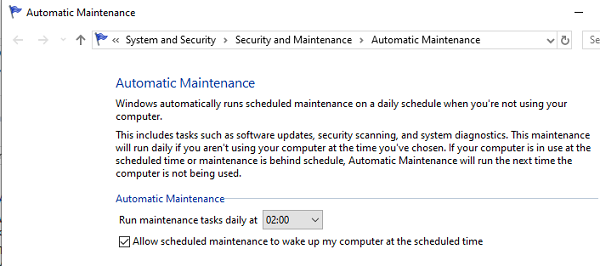 Type Automatic Maintenance in the Windows Search bar, and it will give you the option to open Automatic Maintenance. Here you can choose the time to run the tasks daily at a fixed time. It can even wake up the computer from sleep.
What is exactly happening?
So now that I have told you where to find it let's take a moment to understand what goes on into the heart of this incredible process.  Automatic Maintenance combines all the background processes, including the third-party software and apps to include themselves in the process.
The best way to find out the details is first to run it and then launch the task manager. When you are on the task manager, switch to Processes tab and sort by CPU or Disk usage.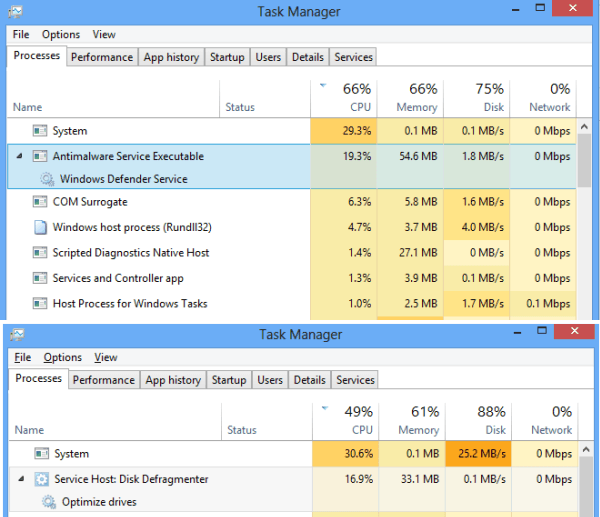 You will see that Windows 10 launches one by one all necessary tasks like Disk Defragmenter to Optimize Drives, Run the Antimalware Service executable, run the COM Surrogate Process, Scripted Diagnostics Native Host process, etc. In case any of the third-party apps have included themselves here, you should be able to view them too.
The best part of this system is that even if you do something on your computer, you will feel a minimum or no slowness on the laptop because of the design it follows. It happens in the case of the manual process. However, when you interrupt the pc during the automatic schedule, it will stop instantly and resume back after 2 minutes of idleness.
In case of critical updates, the user will be notified and asked to manually perform the process, if and only if the automatic task was interrupted too many times to get it done.
It also takes care when you are mobile, i.e., on Laptop Battery. The automatic maintenance is not triggered and can run when you switch to AC power.
How to schedule Automatic Maintenance
I am sure you must have figured out by now, but for the sake of reference, it is available at Control Panel\System and Security\Security and Maintenance\Automatic Maintenance. You can setup timing there.