Many a times you might have felt turning the volume down a bit of an application or a video running in your browser a bit or even mute it without changing anything in the master volume. Those who aren't aware, Windows does allow you to control individual volume of applications running on your PC. This can be accessed by following steps:
Click the small triangle on the system tray.
Locate the volume icon and click to launch it. This will only display the master volume control.
Now click on the Mixer to open more volume options and here you should see a list of apps using volume. If an app does not have any volume control, it wont show up here.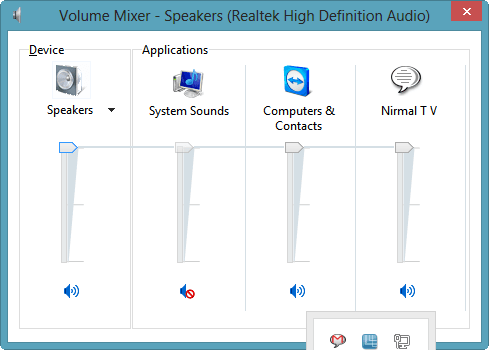 Using this you will be able to increase, decrease or even mute volume of individual apps one by one. That said, what if you want to have certain pre-sets all the time or during a particular time. What we are talking about is sound profile; similar to network profile; which can be loaded on demand and always keeps the volume level settings per device.
Sound Volume View — a freeware application lets you save volume profile exactly like I said above for Windows 8, Windows 2008, Windows 7 and for Windows Vista, if you are using it by any chance.
The app once launched, lists down all the devices, subunits, and application volume which can be individually controlled. You can select an app and mute it directly or right-click and choose to increase or decrease it. It is also possible to change the volume of multiple sources in one go.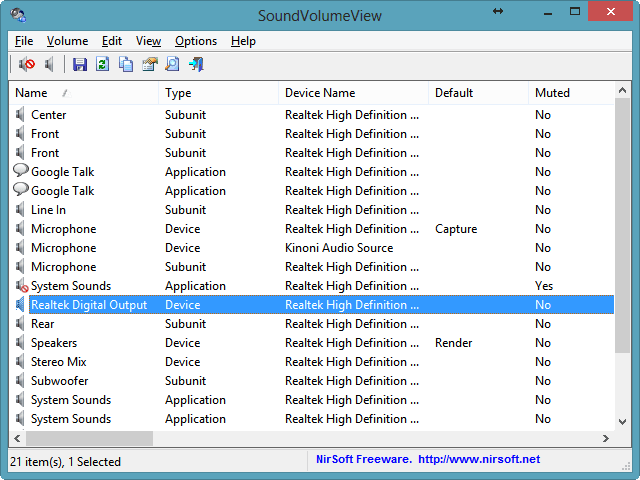 Coming back to the point, once you are done with the settings, you can hit the save button to save the current profile and load it on demand later. This is handy if you have such kind of need. The application also gives you control over individual components of devices as well.