Getting your photos and albums saved on your iPad or iPhone to your computer without connecting the  boring USB cable sounds very exciting and this is exactly Media Transfer app for iOS is doing it for you.
This application transfers videos and photos from iPad / iPhone over WiFi to your computer automatically or with just one tap. Being smart it remembers which photos or album items have already been synced and when you have a new item it can send you reminder asking you to sync again. This way you can have all your albums , images and videos backed up on your computer without worrying too much.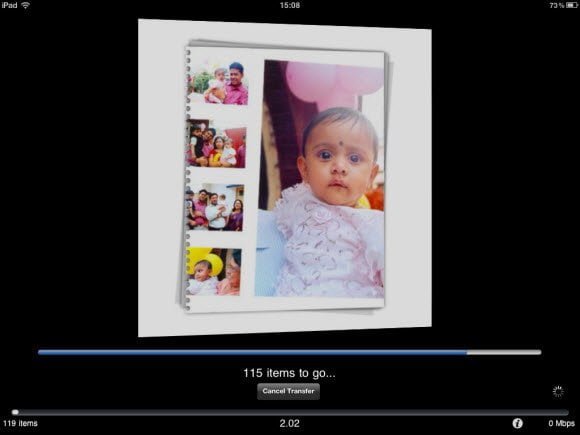 How it works :
First it detects your computer using iTunes Sharing. Fir the first time you will have to enable sharing over network in iTunes. It finds out your IP and then you can turn it off.
Next step is to setup a FTP server on your computer which can be done using free FTP servers like FileZilla. All you need to setup is a FTP account with a folder set for that account with write permission. This is necessary so photos can be transferred.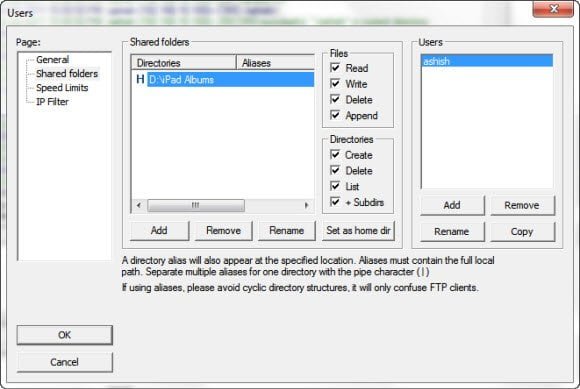 Third steps is to add these FTP settings to the app on your iPad or iPhone.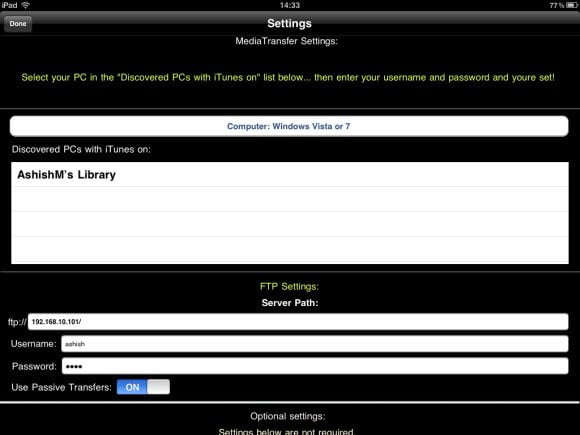 Fourth is to decide what you need to sync. There is no individual filters available but you can set global level filters like Saved Photos, Albums etc.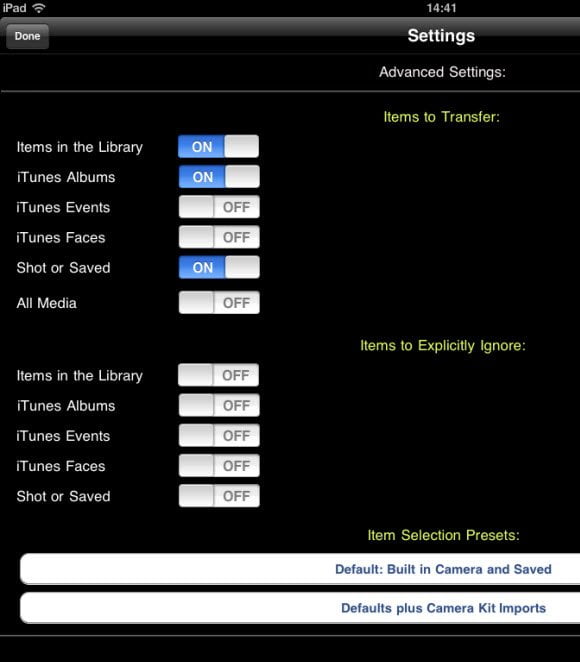 Once everything is set, tap on done and you will get to the front screen. There you can hit on Transfer button to initiate the transfer of medias. It checks and prepares the list before transferring so you get a very clear preview.
Extra Options :
You can set how files will be named when transferred.
You can arrange them into folders i.e. year month etc.
Troubleshooting :
Check your firewall. In case of Windows you might have to disable it completely or add your iPad Address as Exception.
Again make sure the folders where the files will be transferred is writable. This should be configured using the FTP server.
If you have deleted all the images and videos on local computer, hit the "clear remembered items now" button. This will start transferring all the photos again.  In case it finds an item with same name already available, it is simply skipped.
List of Downloads :
Media Transfer App from iTunes
FTP Server from FileZilla
Check indepth tutorial on this on the developers website.