PayPal allows you to add an Indian Bank account to your PayPal account. It will enable you to withdraw or transfer your money directly to your bank. It saves you time and gives you faster access to your PayPal funds! On top of it, there is no charge to withdrawal amounts. In this post, we will show how you can transfer money from PayPal to an Indian bank account.
Transfer money from PayPal to Indian Bank Account
Log in to PayPal Go to My Account and select Payment Methods. Then click on Link a bank account available on the left side. If you already have an account and do not want to edit or add another account, skip this process.
The menu will open up an Add bank account form where you can add Name, Bank name, NEFT IFSC, Account Number, and confirm the account number.
You will need IFSC Code (Click to get the codes for your bank), which is an 11 digit code for the bank. Call the bank people, and they will let you know. It is also printed in your checkbook.
PayPal will automatically transfer any payments you receive from PayPal to your bank account daily. If you link more than one bank account, you can choose which account gets the automatic transfers.
Once your Bank account is added to your PayPal account, its time to transfer money. Go the dashboard, and under your balance, click on Transfer Funds.
Once you click on this, you need to select the bank account, and then the transfer screen was you need entry to the amount of money you want to transfer.
Which PayPal Purpose Code is valid for you?
The critical point to notice here is the purpose code which you need to select in the withdrawal form. Because of the issue between RBI and PayPal and keeping regulation in mind, PayPal has asked customers to add a reason for withdrawal. You can read more about the Purpose Code of PayPal here. These are the following PayPal Purpose available.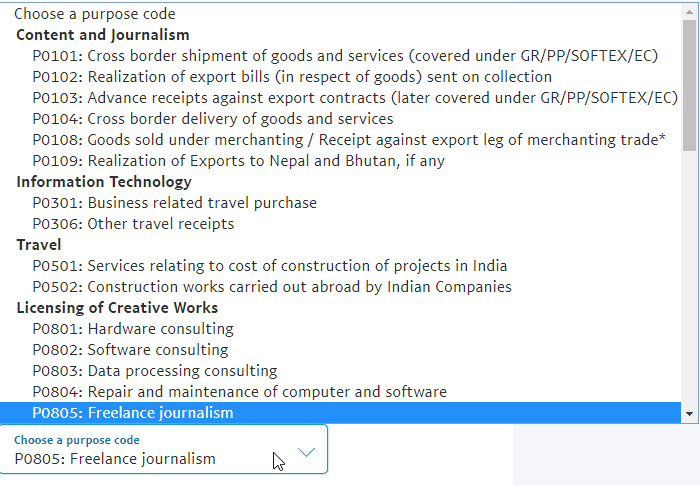 Once you confirm everything, allow 5 to 7 days for the money to get into your account. However, in my experience, the money gets transferred into an Indian bank account in 3 days.
What is the Indian Financial System Code (IFSC)?
The Indian Financial System Code (IFSC) is an alpha-numeric code designed to identify bank branches in India uniquely. It is an 11 -digit code with the first four characters representing the bank code, the next set is a control character, and the last six characters identify the branch. The Reserve Bank of India publishes the IFSC and MICR codes, but only IFSC codes should be used. Please contact your bank in India for this code.
I hope the post was smooth, and you were able to transfer PayPal money to your bank account.