When it comes to street views, India has no option till now and those who wanted are still waiting for Google to get some work done. In the mean time,  Genesys International Corporation, an Indian company, has launched WONOBO — Street View for India.
If you are not aware anything on street view, just Google it up or in simple words, you can view your streets as they look in real word on a map. That said, there might be a minor difference between what has changed in real world but that is acceptable.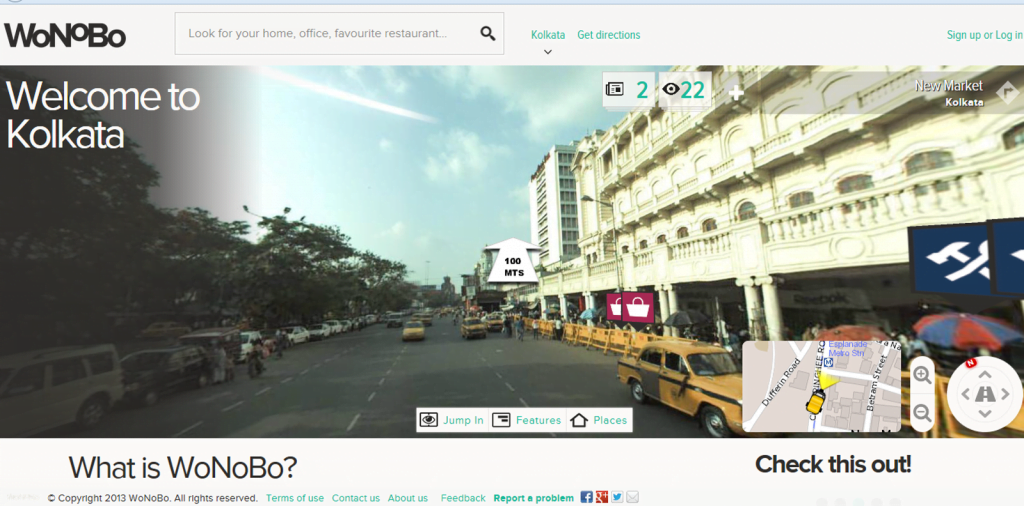 Features :
Most of the major India cities are covered. Though its claimed that data is updated regularly but when tried out for my location, it seems to be at least a year old.
Walking Tours  and Guides : These are virtual tours of some popular places in your city. So if you are planning to visit a place and want a preview, this is a good place to discover.
360 degree of any place you walk in which could be your old school, restaurant, your neighborhood and so on.
User Generated Content to help fix and discover Points of Interests.
Using WONOBO is not a brainer and all you need is launch it on your browser and select your city first. Once done, you will have to wait a couple of minutes for it completely load. Next, you can type in an address or landmark and it should load up soon. Next is you can enjoy the 360 degree view with Zoom.
My Experience:
All that feature explained, couple of things were not working well for me. One the images where not really high-resolution. That puts in a bad experience. Secondly the loading time is way to high for street view to load. I have tried street view on Google and they are faster than this. Lastly we need a mobile app on major platforms to get more users on board. That is coming.