This article is a a beginners guide for Office Words which will tell you some essential configurations and options you should setup before you make your first Microsoft Word document using Office 2007. Already started ? No worries You can still do it.
These points can help you avoiding some of the common problems which we face at the end and realize it was due to settings and not because of Microsoft. Increase your productivity with it and do tell us if you got more

Some of them like , Increasing number of recent file list, printing background images,adding your own dictionary are my favorite.
As we are going to discuss configuration, settings and options in word 2007, Open your word settings first.
Go to Left top ( Home Icon of Word)
Click and in and on the right sidebar at the end you will see the option of "Word Settings".
Click on it and you will be greeted by large options. We will deal with them one by one.
Popular, Display, Proofing, Save and Advanced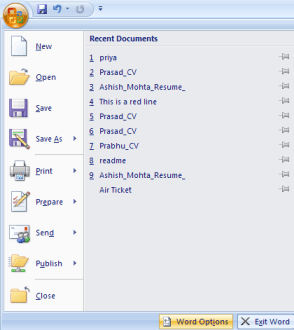 Setting up Popular Options
#1 If you are a developer who write macros, Check the option "Show Developer Tab in the Ribbon" . Unless you activate here you will be wasting your time looking for it.
#2 Check the option "Open Email attachments in full screen". I had both the options not checked and when I used to get documents it was sized but not full screen. This can save you from maximizing word documents every time you open from emails or attachments.
#3 Select the option of "Show feature description in Screen Tips" from the list of ScreenTip Style. This is essential as it will give you hints with explanation for various feature which you might not understand , specially if you are a new user.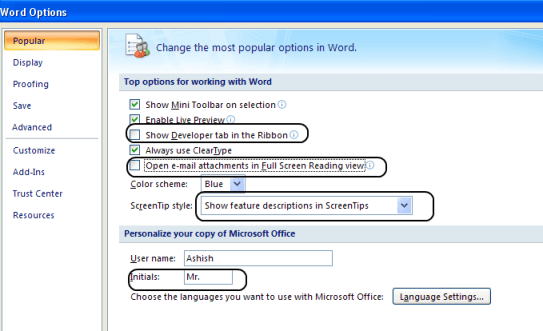 Settings up Display Options
#4 If you have prepared document which has a lot of highlighting and you don't want it to be seen when you print the word document, Uncheck "Show Highlighted marks" . Highlighting is useful sometimes when you prepare defects document but we print it out also so its clear to the coder who sees it. It depends on your need.
#5 You might see some weird characters after every paragraph or line break or even tabs. It's actually, formatting marks , inbuilt feature of word which signifies for more clarity. However its irritating most of the time. So if you are seeing character like that. Just uncheck all the formatting marks and it will vanish.
#6 Printing options are most important ones. If you are having problem of background images not getting printed or you see document properties ( which is sometimes like c:ashishresume.doc) showing up it's because of settings here. Check the image for more clarity.
#6A One of the options here is update linked data before printing. This is particularly useful if you are extracting data from a different source which might have changed. Check this if you want the latest update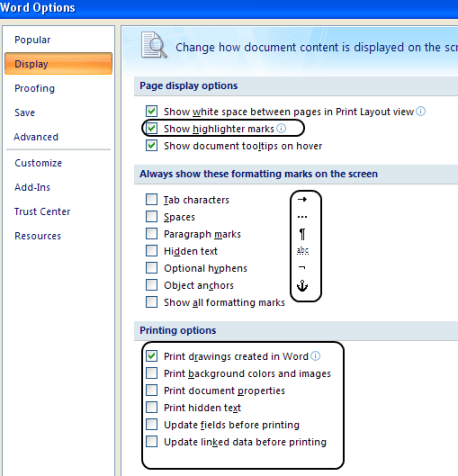 Setting up Proofing
Proofing is way to make sure your document is free from most of the spelling errors and problematic formatting styles.There are lot of options of which I am picking the few and leaving rest for you to explore.
#7 Spell Checkers use dictionaries provided by the Microsoft which comes inbuilt. There are many words which may be used in your organization or you personally. For an example many of the site names ( including domain name ) are not dictionary words. So if you want to use custom dictionary you need to set up two things.
Uncheck the options in Proofing which says "Suggest from Main Dictionary only" This will allow you to add and create your own dictionaries and use them also along with main.
Then add your custom dictionary (.dic) click on "Custom Dictionaries" button and add if you have any. If not you can create one and then add your words as shown in figure.
You should be able to add words at run time also. When a red line comes under a word , just right-click and add it.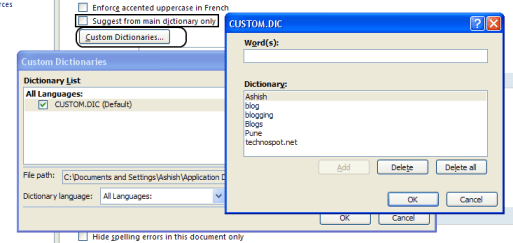 #8 Under "When Correcting spelling and grammar in Word"
If you use more of Contextual writing , Check option for "Use Contextual Spelling"
Uncheck the Mark Grammar as you type. This will avoid making the word red before you finish it.
Try exploring the Writing Style list box. Its interesting.
Setting up Save Options
#9 Under save options Keep the "Save Auto recovery option every " X minutes enabled. X will be you time in minutes. This is essential if the system shutdowns automatically or anything which closes your word application. Next time you open word 2007 it will automatically show the recoverable files

#10 If you have Document management server or VSS or SVN , You can edit the options of local or a network path which you are using. You can save you drafts on server so that its visible to others but you still need to do check in the file.

Setting up Advanced options
When you select the Advanced Settings there are huge number of options but they are well categorized. Most of the settings are pretty much fine but I found some which you might like to use
Under Display Section :
#11 The best of all , How do you increase the number of recent file list ?….Easy just increase it under "Show this number of recent documents" and you have it. !!!!

Under Cut Copy and Paste section
#12 : If you use images regularly with same kind of setting many a times, You can set a default option like inline, behind text and it will be used every time you do. This can save a lot of time of yours.
#13 : Tired of using CTRL + V for pasting ? Use the insert key now. Here you get an option which will set the insert key to be used for pasting. Check the image.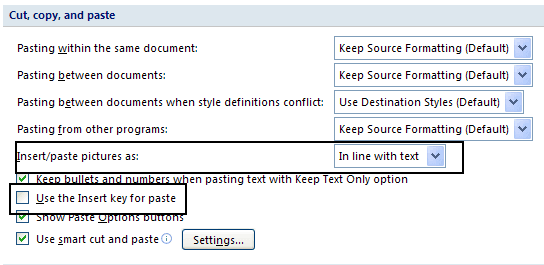 Under Save Section
#14 Most of us will make another copy before we start editing an important document. Word can do it for you automatically. Just check the option of "Always Create a backup copy".
#15 If you are editing a file on network and you have permission to edit and save at same place and on top of that you have auto-save feature on , You will keep updating the document even if you are not finished. An option "Copy Remotely files onto your computer and update file when saving" Can save some problem. It creates local copy first and the updates when you save not before that.

Wo!!!, After reading it once again Even I did not knew so much is there in just the settings. There could be more, you just need to look for it. These settings will surely help you in giving a good start with Microsoft Office Word 2007.