This is live from WordpCamp India. We will keep updating this post all the time so keep refreshing every couple of minutes.
9:00 Registration and wordpress goodies.
10 :00 AM
Om Malik Started with the Key Note.
He is telling about how he started as a Journalist and started GigaOm and talks about broadband and the impact on life of Internet on our life. The story is really inspiring as he grew at time when Internet awareness was less. Amazing Story
He Says
Blogging is something where you cannot waste time, Not a day not an hr and not even a minute. You have to run a marathan to learn how to win it. "

Blogging is like a piece of paper , You can make a bill or you can make a photo blog or anything which you feel about it.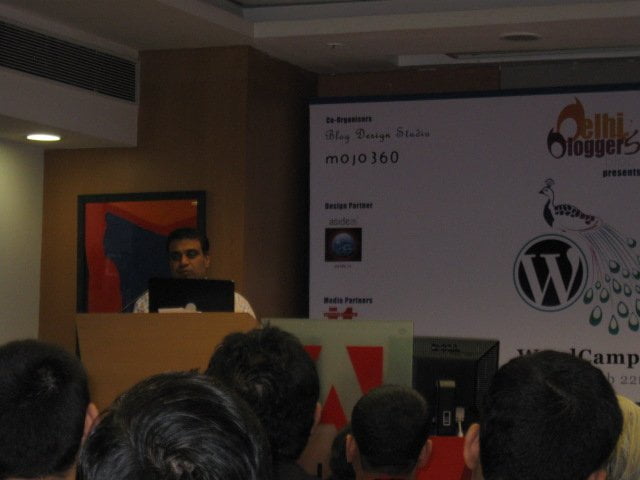 10: 30 AM
Shreyas had Started with Building a radio site on wordpress
He talks about Radio verve which is s site dedicated in exploring Music bands which are really good but not know
This is an awesome platform to find Indian music and listen to it and find new people who can be a Rockstar if they would have been in the country like US or Europea
Radioverve looks awesome as you can do everything with just one page. It has just 5 pages in the second version and WordPress Plugin and Designs just made it work.
The whole site is on Radio with 9 stations, Music of all types right from Kokani to Assamese.
He talks about some WordPress hack tips
How to integrated other database from wordpress in wp-config.php
Why plugins get loaded even though when its is not required. Think lot of plugin designer should think off.
Now he goes Ninja Foo . Customizing Login Page, User Profile page. This youc an do by overriding a standard wordpress page by overriding it. use add_action ( load-profile.php, 'yourpage',98)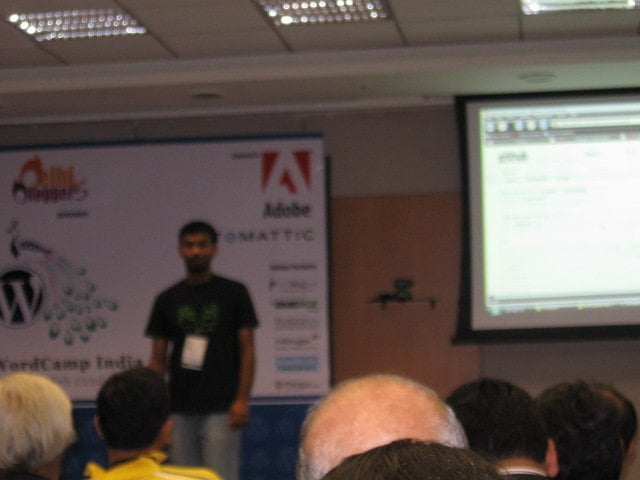 He concludes with how much wordpress has helped and you can develop something very fast on it.
11:00
Abhijeet started on How to get started after installing wordpress.
Try to avoid using automated script installers. Manual Installation is the best.
Check out wordpress.tv for all the details. This could be the best resource for getting a video tutorial.
Opmtization, Marketting and Security. Three major things to start after you install wordpress.
Optimization : Changing Permlink to either have title or something which is more readable by humans and also search engines.
Optimization : Robots.txt importance to tell what to index and what not to index.
Optmization : Sitemap for Google Webmaster tools
Optmization : All in one SEO plugin for search engines optimization
Optmization : Use categories and tags careful so don't become a mess and unmanageable. Simple Tags recommended
Optimization : Managing Images on subdomain is lot better.
Security : Add Security layer Add Akismet. ( he got a hot date comment as his first spam )
Security : Hide your wordpress files and folders. Options All -indexes in .htaccess files.
Security : Hide the version of your wordpress as they can tempt crackers know if you are at old version. Remove wp-generator from wp-head
Security : You can even this on changing admin username to something else. Keep strong passwords
Marketing : Feedburner Feedsmith Plugin for bringing all your feed readers at one common point instead of having people subscribed to different feed address
Marketing : Bookmarking . Use Addthis or sharethis plugins
Marketing : Blog Monitoring Service and Googl Analytics to find metrics of your blog.
Marketing : Submit blog to blog directories like technorati, dmoz, getblogs.com,blogcatalog, bloghub etc.
Marketing : Build Rapport using comments and make them sensible and on your niche related blogs.
Content is the King, Marketing is the Queen and it runs the household
11:30 AM
Matt has started with making everybody laugh and smile. he talks about his Visit to India and he loves it.
He shows b2 the first thing he used and was blown away with it.
He talks about how apostrophes slows down when writing in HTML
His first experience with b2 where he submitted the code and amazed to see when lot of  people used it.
WordPress Started as a fork of b2
Wordcamp map happening now all over the world.
There are 4000+ plugins on wordpress now.
There are 11651 blogs on Indian Regional Language
WordPress 2.8 : Can come with a development environment where you can get lot of help while you edit your theme files

WordPress 2.8 : Custom Taxonomy . He is doing a taxonomy on instruments also.
WordPress as CMS is growing stronger
2009 Vision : Software should be humble, Agile and global.
Humble :  User driven
Agile : Plugins and Themes : Most important part of wordpress. Anybody can duplicate but its impossible to duplicate the community around wordpress.
Agile : What if plugin can tell how many people are running a version of plugin which you have. That tells you it will work.
Global : Every Country, Every Language and every culture. 11 books on wordpress at Indonesia. WordPress logo is proportionate which these books did not have.
Global : Accessibility .
Global : Freedom  use the software for any purpose. Freedom to change the software to suit it needs
Global : Freedom : To share the changes you make and share with family and friends
Can I help : How can you get involved with wordpress
Matt holding his first company name upside down. LOL
13:30PM
Aby presenting SEO Optimization WordPress
HeadSpace 2 | All one SEO pack  plugin recommended.
SEO Smart link : people are divergence on using it because ALL in one SEO goes revers on SEO Smart link i.e. Archives and categories are noindex for ASEO and smartlink actually creates the link of those tags and archive.
Optimizing Images :  Seo Friendly Plugin
Redirection : Use it for all your redirection
Moving to a new domain :  301 redirection
2:00 PM

Amit on How to optmize Adsense wordpress blog
Be not shy on putting ad on your blog. After all its business
Ads should be on prominent spots for better ROI
Big is bitter : 300 250 best support for ads as they even support for rich media
Best Ad position : Middle and above the fold
Colors and Fonts : Factors : Audience, design etc
Fonts now available with adsense.
Color Schemes :  Blend , Compliment, Contrast.
Relevant Ads : Use Section targeting  to increase relevant ad density: google_ad_section_start / google_ad_section_start ( weight=ignore)
Site Search : Make readers sure what the search box about. Top Right best place to put search box. Put search box at the bottom of the post.
Add search on subdomain because it becomes like your own search engine. Users like it.
Best Performing ads : CPC > CPM  > Link Units
Heat maps and Crazy Egg. Ask  non savvy people who don't know much about ads.
Use High Quality image : Image Search can bring lot of traffic and revenue can bring good revenue.
Why Link ? Even people who do PHD give importance and citation to resources . Search engine gives you more authority when you link to good sites. It helps finding good site. Add anchor text to tell search engine and google bots about the site.
Search Engine tracks even the back button pressed which actually tells them the user did not find anything good on that site. This can be bad for any site.
Using Google Analytics to improve your adsense performance.  Find low paying posts to improve them.
Some of the words ( stop words ) like Cra## d##eath etc might also effect Adsense earning.
Placement Targeting to make good impression on new Advertisers
How adwords find sites for advertising : URL / Title Slug.
Dont have too many pages with similar content
NoIndex follow for tag pages
Smart pricing and Feeling Compacement
Steal Ideas : Adsense Case Studies, Media sites, Premium publishers, webmaster world senior members. Official Google Guides, jensense, Propblogger, Barry Schwartz, Chris Pirillo
3: 00 Quiz for One hour :
It was fab. Lot of things we didnt knew about and its always good to go back to history. Awesome work guys.
4:30 Matt and Om Malik Open Conference
Matt talks about how he was blown away seeing Taj Mahal which he had heard about. He says  Monument of Human Kind which represent a different thing.
Om Malik : Engg was much more advanced 350 years ago where big fortress gets cooled without an AC
Question to Om : Were you charged Indian rate or foreigner rate for visiting Taj mahal and Matt laughs with us a loud.
Matt was asked : when BBpress will be ready and grow.
Om Malik : 1920 Radio become popular. Then Cable come along and then Internet , What you see is every single time like 25 years the way data is distributed changes. Rise of Media entity with each distribution channel the cost of distribution decreased and players increased. Now we have broadband and we have a new way of distributing media.
Om Malik : Next big wave is wireless broad band. News media will undergo change and evolve. Media cannot go. Its time for evolution after all its business.
Om Malik :Radio was not killed by Cable and nor cable was killed by others. They survived and adapt and similarly the media will never go but will adopt.
Om Malik : How Media can use information on twitter, analyze and use it as a source for news.
Question to Matt : Can we have no wordpress update for longer time Answer : NO
Matt : WordPress Book Open Source which gets updated with instructions for endusers and plugin authors. Coming soon.
Om: Cannot answer Which content is king

Om : You cannot doubt the intelligence of the community. They know what they come for.
Matt : People will know if you are biased but every human is biased we just dont show it off.
Om: Blog is not Media.  Blog is blank piece of paper which changes with content. People are confusing blog for news media. Blogs are reflection of your inner views not news media. It can be anything for anybody
Matt : Restricting people to not to remove links is restricting freedom. It defies freedom.
Lot of discussion on Premium wordpress themes and GPL.
To Matt : How Automatic makes money ? : VIP hosting, Small amount of advertisement, services.
Matt also talks about JAZZ. He collects Jazz Books,photography and more.
That ends the day of Wordcamp India. We will be back tommorow with Day 2 live.