If you are running a website powered by WordPress, then here is a big news for you. Jetpack Plugin has introduced a new feature — Omnisearch which allows you to do a universal search in WordPress Admin Section. This means when you make a search using this new search box, it will not only search in your blog posts, but also your comments, plugins, pages and other sections.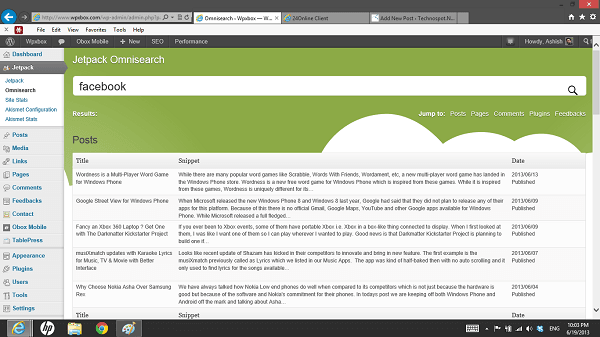 Like you can see in the image above that the search result is already categorized into above mentioned categories. You can quickly jump to each section where you are looking for.
Because of this now it will be easier for one to get more result when it is difficult to find something. However, it will be doing more query and if you are sure that you would want to search only comment, then using this is not a good idea.
Also there is no option to change settings so you can skip plugin search for example. Most of us would be interested in comment and blog posts search together.
The Search box for this is available on top right corner and also ahs a menu under the Jetpack Menu.  To enable this, just upgrade the plugin which should be already sending you notifications.
Developers interested to add some more functionality to this can do so by using the Omnisearch Class which has open hooks. Head over to his page to learn more.