Organizations across the globe are embracing cloud-based HRMS solutions to boost their productivity. Among some of the reputed names, Workday has gained significant popularity. Workday helps you maintain compliance requirements and supports activities like onboarding, learning, development, recruitment, query solutions, and payroll. Since Workday is a great investment for your organization's success, it is necessary that it should be configured, optimized, and updated properly. This is where testing comes in.
What is Workday testing
Workday Testing is a process in which the evaluation and validation of the functionality, performance, security, and accuracy of the Workday instance take place. Since Workday supports human capital management (HCM) and financial management of an organization, testing ensures that it operates as intended, meeting the business requirements flawlessly.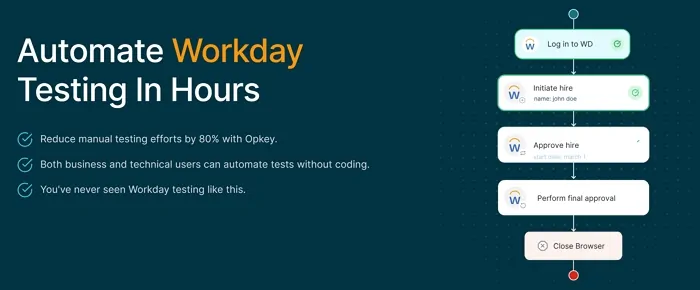 Different types of Workday testing
Functional Testing: In this, test cases are designed to validate the core functionality of Workday across different modules – HR, payroll, benefits, time tracking, recruiting, and financial management.
Integration Testing: Enterprise applications like Workday hardly operate stand-alone. Often, they integrate with other enterprise applications. For instance, an organization may use Workday as HRMS while Oracle for financial management. Whenever data flows to and fro between Workday and external systems, integration testing needs to be performed.
Security Testing: Corporate data is considered as sensitive. Furthermore, it needs to be accessed based on roles and privileges. This is where security testing comes in. It ensures that the Workday instance is protected against unauthorized access, data breaches, and other security vulnerabilities.
User Acceptance Testing (UAT): UAT plays a critical role in handling change as it provides users a chance to use the system before its deployment in production. By performing UAT, business users ensure that the system meets their expectations without any discrepancies.
Regression Testing: Workday regularly delivers new updates for regulatory and compliance changes. This happens in two ways: weekly service updates and feature releases. Whenever these updates are rolled out, regression testing of Workday needs to be performed to ensure that new changes don't negatively impact existing functionalities.
As you're now aware of different types of Workday testing, let's discuss why it is critical:
While implementing Workday, it is critical that it is configured as per your organization's unique needs. Testing ensures that these configurations work as intended and don't lead to unforeseen issues.
To add more value to your business, Workday regularly delivers new features that make you more agile to the changing world. It rolls out new features in two ways: weekly service updates and feature releases. The weekly service updates include software and regulatory fixes while releases bring new and enhanced features for your existing Workday subscription. Whenever these updates are rolled out, testing needs to be done to avoid business disruption.
Since Workday contains confidential data, testing ensures compliance with industry and legal standards. Furthermore, proper testing is mandatory to identify and rectify security vulnerabilities, safeguarding sensitive information.
Conclusion
Thus, we can say that Workday testing is essential to maximize the return on investment. However, manual testing is time-consuming and error prone. Furthermore, it cannot guarantee adequate risk coverage. It is recommended that you should bring in test automation to keep up with Workday updates. Although test automation can speed up the testing process and ensure adequate risk coverage, finding the right test automation tool is the key to success.
Among some of the reputed tools, Opkey has gained a significant name in the test automation industry. It's no code test automation allows even the non-technical folks to participate in the testing process. Moreover, it can be used for regression, user acceptance, security, and end-to-end continuous testing.