I have talked a lot about the disorders caused due to working a lot on computer for several hours. The first post in this series was based on the disorders which are caused due to long working sessions on the computer, and the second one telling about some stretching exercises in the same context. While preparing these posts I came across an amazing software which can take care of such needs. Imagine, a software which has the ability to remind you about short breaks, long breaks, some stretching exercises, etc.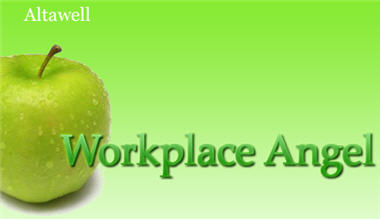 Workplace Angel is a software which can meet all the above stated needs. A 30-days free trial version can be downloaded. While the setup itself you can decide the intervals for your short and long breaks along with the spans of these breaks.
As soon as you are done with the setup the icon for Workplace Angel appears in the tray, and keeps reminding you for the breaks and offers you some stretching exercises to stay away from stress.
What all will Workplace Angel do for you
Reminds you about the short/long breaks, which are set by you, (you can decide after how much time will you take a short/long break, form the starting time of your working schedule).
Time span for each break can be decided, so Work Place angel will tell you when the break is over.
It will suggest you exercises which can be followed to keep you fit.
Right click on the tray icon of Workplace Angel and clicking on setup wizard can help you with the recommendations on how to adjust your workplace for most comfortable and healthy work, like desk and chair adjustments, your sitting posture, adjustments of keyboard, mouse and screen etc.
And finally the last thing that comes as bonus is wisdom quotes, every time you get a notification from Workplace Angel, it is accompanied by a wisdom quote for you, so you get a healthy mind too.
My Experience with Workplace Angel
Easy to use interface.
Doesn't take much resource, hardly any effect on PC performance.
Exercises are great stress beater, adjustments given in setup wizard are very helpful.
So try it hope it helps you well, I was always looking for some such kind of solution for me, I m happy to get it finally. Planning to get a registered copy of it, as the trial version claims to that registered has many other exercises. Have your say, have you ever thought of having some software of this kind, and also don't forget to share the experience with the trial version.
This is the last post in this series. We got a good response on this and time to time we will be coming with these kind of posts, after its not just learning about computer and internet its about our health too.
Download the 30 Days Trial version of Workplace Angel