Ever wanted to scribble directly on your Laptop screen??? If yes, then here is this awesome idea, Hanwah Japan launched a digital pen, the Duo for Laptop, you can write directly on your laptop's screen and makes it work like a tablet PC!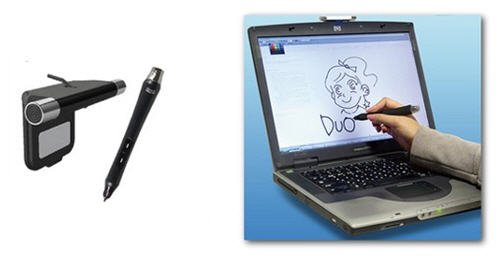 All you need to do is, put a screen on your Laptop, which captures the pen's movement through infrared and ultrasonic technology.
As of now it's available only for 15.4inch screen, if your laptop has 15.4inch display, you can try it now, or else you will have to wait for more versions of this to be released.
Specification of Duo –
Receiver unit size: 77 × 58 × 8.5mm
Pen Size: 16.5 × 130mm (Diameter x length)
Weigh: 17.5g
Resolution: 600 dpi
Price 9980 Yen (€79)
You can read and see some more images of Duo here.  Source Engadget