I got an XBox 360 Kinect Bundle yesterday and played for like two hours yesterday and 2 hours in morning. In one word, Kinect is Addictive and for people like me who don't have much time to go for workout, Kinect is a great help.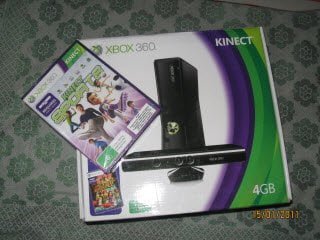 What was in the bundle :
XBox 360 Console
Kinect
One Wi-Fi Controller with a pair of battery.
Adapters and Wires
Manual and
Kinect Adventure Game.
Setting up the XBox was pretty easy. All you need is to connect the power cords and plugin the AV cables into the TV. However if you have an HDMI cable, I would suggest you to use that.
Starting up was so easy, just touch the power button or the eject button and the XBox console turned on and asks for the Game DVD. Once you place that, it will guide through process of setting up network connection, connecting with your live id and so on.
Even if you are first time on XBox always choose to recover account and use your Live ID for signing unless you have decided to use a new one.
After this there might be some updates that will be downloaded and applied. I would suggest to do it. Once done you will be asked to choose an Avatar for you. Kinect Avatars will be awesome with the recent announcement in CES, which we nicknamed as Tweetup in Future. Setting up avatar is easy if you can fit one that suits you. There are 100 avatars of which you can choose and then change the looks easily. Loved this part.
XBox  360 Kinect UnBoxing Video :
Choosing Kinect Avatar :