Xiaomi is the first Chinese brand who made a lot of difference by offer higher quality product at lower price, and lot of improvements over time with their product. They became pretty famous because of their flash sales as well, but I guess it did backfire many a times.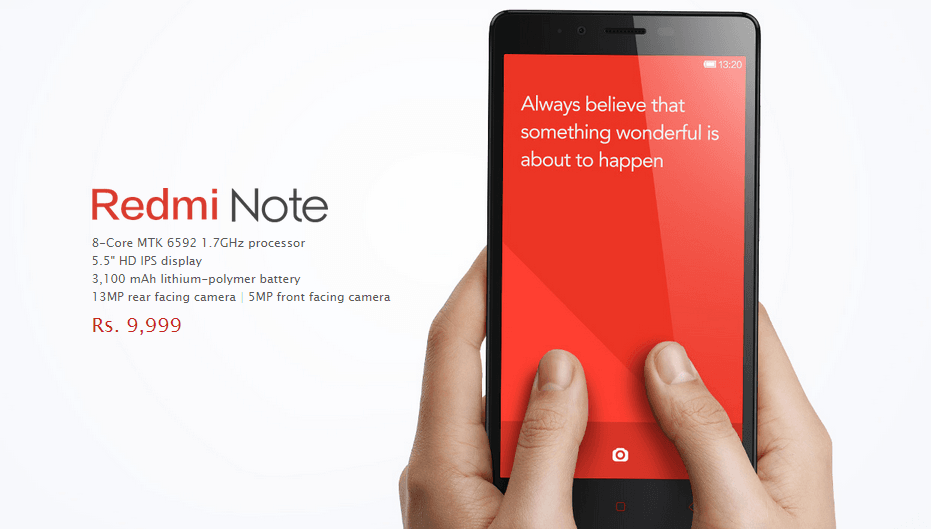 That said, the company is now ready to launch the Redmi Note, and we are hearing that its going to be 2nd of December. We expect it to arrive by November mid, but I guess things got delayed. Those who aren't aware, Redmi Note is a phablet powered by an octa-core MTK 6592 1.7GHz processor from MediaTek. It houses a 5.5-inch HD IPS display, with 13 MP rear camera, 5mp front camera for selfies, 3100 mAh battery power. At a price point of Rs 9,999 this sounds an amazing deal.
Update: The company has just annocuned that the Redmi Note will be priced at Rs.8,999, while the 4G Version will Cost Rs.9,999. Airtel is partnering up with Redmi so expect the 4G announcement soon. That said, the pre-orders will beging from tomorrow with Flipkart. Some units will also be availble with Airtel Stores. The 4G version will be available in 2nd half of December.
I am guessing that this phone will get into direct competition with the Lumia 730 which is also a selfie phone. The product is listed on Xiaomi Indian Website