Does your Gmail inbox have 99+ emails? Is it too cluttered with many threads that include a mix of unwanted, professional, and personal emails? If yes, you would find seeing attachments in your Gmail account challenging. So, we have covered you all if you want to find images, attachments, and videos in Gmail.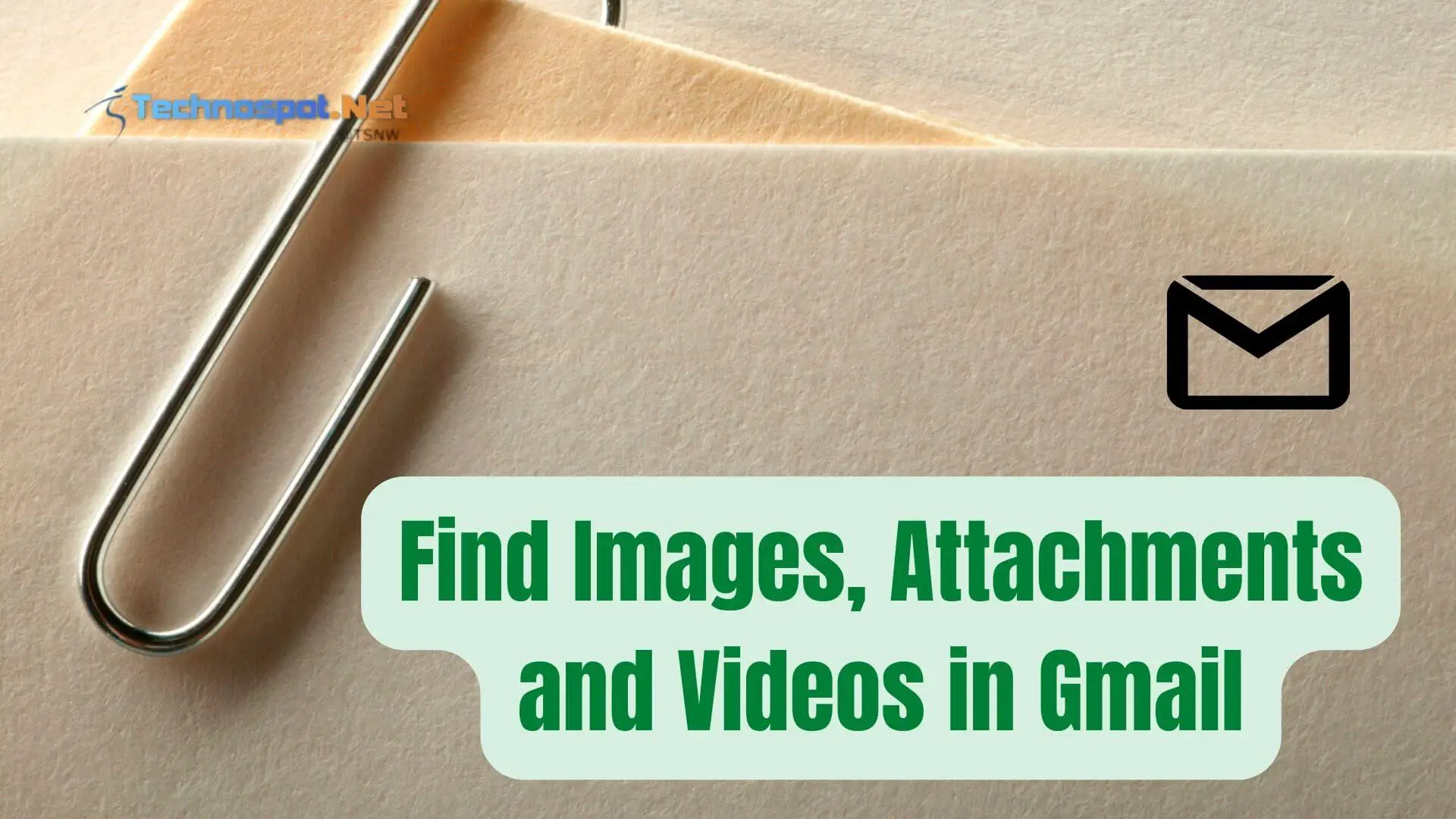 How to Find Images, Attachments, and Videos in Gmail
Here is the list of methods and suggestions to help you find images, attachments, and videos in your Gmail account.
Searching for images and attachments in Gmail
Finding videos in Gmail
Tips for organizing and managing images and attachments in Gmail
Note: Be aware that even though Gmail is free, it has its storage limit. These methods can also help you find emails with large attachments.
1] Searching for Images and Attachments in Gmail
Be it pdfs, images, spreadsheets, or any other attachments, locating them amongst abundant text messages is a hassle. Gmail's features have simplified it with its Search box and Advanced Search Filters.
Using the Search Bar in Gmail to Find Specific Images or Attachments
Searching for specific images or attachments in Gmail is quite simple. Using particular keywords in the search option would be best, and Gmail will do the rest for you.
Here's how you can search for images and attachments in Gmail:
Head over to your Gmail and click on Search mail text box
Depending upon the image or attachment you want to search, type the related term or keyword
Here are the terms you would be using to locate images or attachments:
filename:my-image.png
To search for a specific image, enter the image name in the search bar and add the image's file extension. So, here file name is the name of the image, and the colon is an operator, after which you will specify whether it's jpg, jpeg, or png.
For instance, if your image name is screenshot.jpg, you will input the following in the search bar.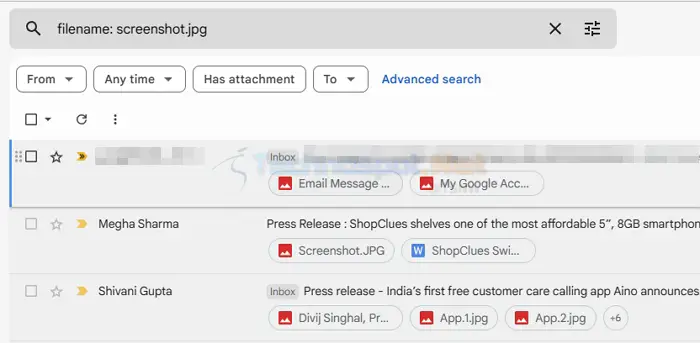 has:attachment
All the attachments in Gmail are different from text emails. Therefore, searching for an email with attachments is much simpler. Input has:attachment and the search results will display all the emails with attachments.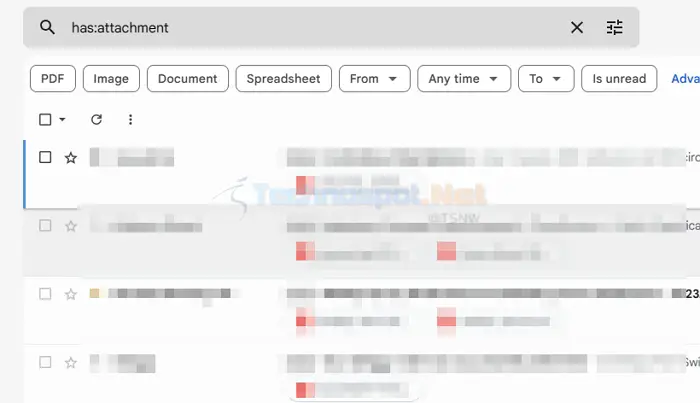 Find Emails with attachments from Google Drive, i.e., Google Docs, Spreadsheet, and Presentation:
Searching for a drive link or a document is pretty simple to look for. Write "has" then a colon, and next to it, write "drive" or "document," depending upon the attachment you want to fetch. Both types of files are attachments; hence you should not use the has:attachment keyword along with it. Instead, use specific terms as below:
has:drive
has:document
has:spreadsheet
has:presentation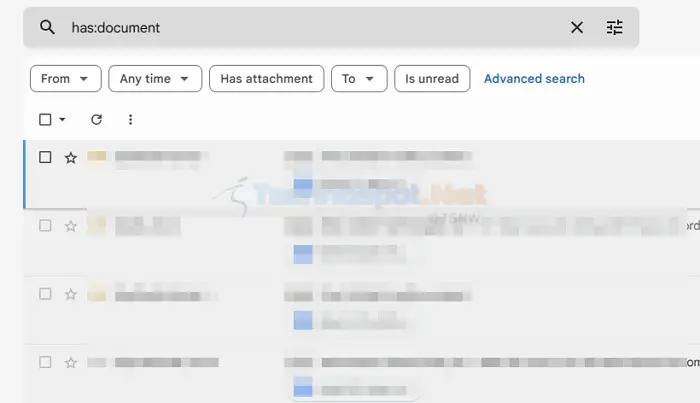 2] Advanced Search Options for Filtering Results
When you want to search more precisely to avoid wasting your time, Gmail's Advanced Search Filters are a blessing in disguise.
Here's how you can use the advanced search filters for finding images and attachments:
Open Gmail, click on the three-lined progress icon near the Search text box
A pop-up appears for Advanced Search Filters
Enter the sender's name, click on the Has attachment checkbox, and in the Does Have option, input the file extension like .jpg, .png, .docx, pptx, xlsx, and more.
Press the Search Button at the bottom-right of the pop-up
You can refine your search with date and size if you know the specifications.
2] Finding Videos in Gmail
Videos have a unique file extension, making locating them more accessible. Further, not all send videos; it's only some people do. Therefore, you can search for video files and check which one you need.
Using the Search Bar to Find Emails with Videos
Videos in Gmail generally have a .mp4 extension. So, if you find videos, you can use this parameter to search better.
Here's how you can search for videos in Gmail:
Go to Gmail on your device
Enter the term below in the search bar
filename:mp4
Here filename is the name of the video, and mp4 is the video extension. There are slight chances of any other as well.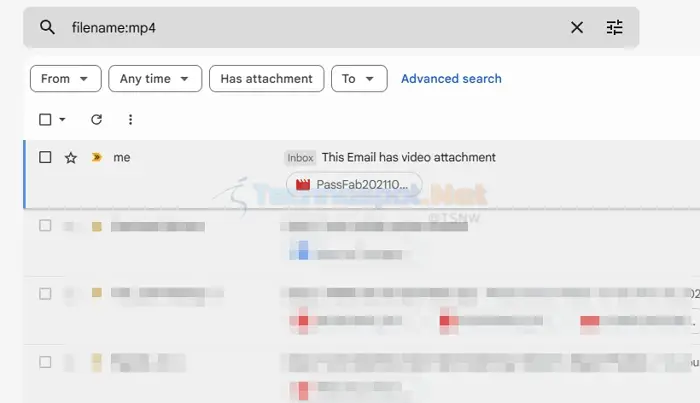 When you don't know the filename, here's how you can search for videos:
Open Gmail and navigate to the Search text box
Input mp4 in the search bar and press the Enter key
Gmail would now display all the emails which have an mp4 file extension. If your video has any other format, substitute it instead of mp4.
If you want to search for YouTube video links in your Emails, then use the following:
has:youtube
There are many more syntaxes, and you can find all of them on the official page.
3] Tips for Organizing and Managing Images and Attachments in Gmail
It would have cluttered your inbox, be it Newsletters, work emails, subscription emails, or miscellaneous emails. It would inconvenience you to search for your preferred files and folders. Here's where you should think of organizing them better. Gmail has several inbuilt features which you can use for managing images and attachments in Gmail.
Using Labels and Folders to Organise Emails
One of the most underrated features is labels and folders for organizing emails. If you work for multiple clients who mail you, you can create separate folders for each. Further, you can move your emails to those folders. Similarly, you can create different folders as per your preferences.
Besides, use labels if you are a student, work, or have a standard mail for personal and other reasons. There are several labels in Gmail, including Primary, Promotions, Social, Starred, Important, Spam, and many more.
You can move them into your preferred section. You can move your Instagram and Facebook emails to social and those of your office to critical. Further, every mail that you delete goes into the Bin label, after which it's temporarily after a specific time.
Using the "Starred" Feature to Mark Important Emails
Amidst plenty of emails finding the ones that are essential to you seems daunting. Here's where the Starred feature helps. You can select a mail and then add a star to it. Doing so for every crucial mail for you will put it in the Starred label. So you can access all your important emails in one place.
Using the "Archive" Feature to Declutter the Inbox
No one likes a cluttered inbox. So, if you have one such, then there might be some reason you don't want to delete emails. In such a scenario, the Archive feature works. You can archive all or most of your emails. These won't delete but will show up in the inbox if you receive a reply from the email.
Besides, you can always Unarchive them when needed. So, it would be best if you moved most of your mail. They automatically show up when you receive another from the same person, business, or community.
Conclusion
While searching for how to find images, attachments, and videos in Gmail, you would have gotten your answer. The conventional methods are pretty hefty and make the process a hassle. So, you can use the jpeg or png or jpg extensions in Gmail to find images. Similarly, you can use the has:attachment to locate different attachments in your inbox.
Finding attachments would be difficult if you have an enormous amount of mail. Therefore, you can use its Advanced Search filter. You can search with an MP4 file extension in the inbox for videos. You can also use the Size filter to find all big videos if you are unsure about the extensions.
If all of it often makes you feel that Gmail still has several features missing. So, if your prerequisites are much more than Mailbutler, Clean Email and Sanborn are some tools that would help you!