It was interesting to see how yahoo chat has removed bots from its chat server by implementing Captcha Verification. I even see a yahoo user in every chat room who most possibly be looking around for spammers and bots.
Yahoo Chat rooms are spotless now, for sure. Thanks to my friend Ravi who pointed me out to this when I told how yahoo chat rooms are filled with bots all the time.
The process is straightforward. Any time you log in to yahoo chat rooms, they give u a link that acts as a captcha verification on a new page. At this point, you won't be able to see any logged-in user. Pretty Neat!!. As soon as you complete it, you can move into the room with a greeting message. Here are the images which will give you clear indications. Click on the images to see a detailed view.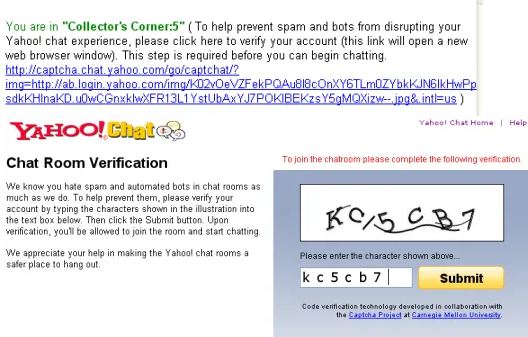 This must-have increased the number of chat users on yahoo for sure. It's good to see non-spammy links now.  Further checking, I found this was already updated on my yahoo messenger blog.