Yes, this is what Yahoo Messenger will look like when installed on Vista. The interface is super cool and users have more control over the looks which allows changing the color ( Take a look at the end of image, a slider allows you to do so ). The only bad news is , you might have to wait for a while to get it on your windows Vista machine.
Update:
For Vista Version of Yahoo Messenger, they had been working on
Performance optimization
Integrated feedback system for bug reporting and feature ideas
Tab-based navigation
Ability to install both versions of Yahoo! Messenger for Windows on the same computer at once
Updated visual design for desktop icons and Sidebar gadget
Vector-based animated emoticons
Aeroglass window integration
So stay tuned fellow, its coming!!!
Till that time lets take a look at the features of it:
Integrated Yahoo Messenger Sidebar widget .
Compatible With Windows Live Messenger.
Change the look and feel of yahoo messenger.
Automatic groups are created in your contact list based on your Yahoo! interests (i.e. Yahoo! Sports Fantasy Football league).
New emoticons, program icons and alert sounds.
Arrange All your chat windows in tabbed fashion, so your screen is less scattered.
Includes Fantasy Sports like Fantasy Football which allows you to enjoy the games with your chat buddies.
Check out the Video on Yahoo Messenger For Windows Vista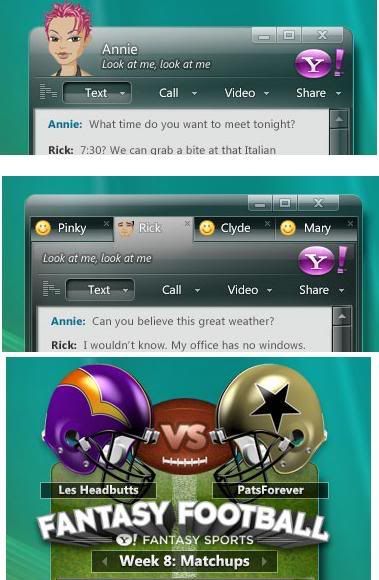 Keep track of the post, I will be updating as soon as they release it.
If you want tabbed window feature on Yahoo Messenger 8.1 refer to this post hack-to-get-tabs-in-yahoo-messenger
Check out the Latest Yahoo Messneger for MAC with Tabbed IM