Many YouTube users were annoyed when YouTube asked them to switch to their real name instead of the username they chose for their YouTube Channel. Even though it does make sense for many to switch to real name but not every body would like to get their real name displayed everywhere.
This option becomes completely useless when it comes to brands. They want the band name to be the face name to all their YouTube subscribers instead of any other name.  Recently I saw, YouTube considering more choice when asking user to switch to real name.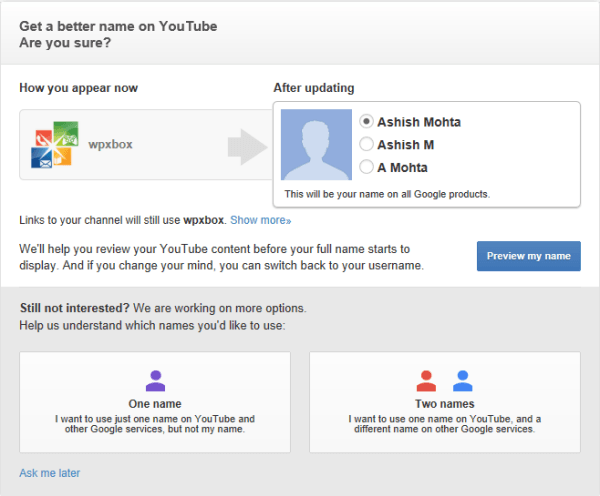 So if you choose not to use the real name, it takes some sort of feed back where it says:
Still not interested? We are working on more options. Help us understand which names you'd like to use:
One Name : I just want to use One Name on YouTube and other Google Services
Two Names :  I want to use one name on YouTube and other name on Google Services.
So if you created YouTube channel for a brand, the first makes sense every where as you would only like people to know by your brand name. However, if you wanted YouTube subscriber to only know by the channel name and not your name. second option makes sense.