Looks like YouTube have finally opened up Tag access in much better way for video publishers. Those who are not aware, Tags are like keywords which can be used to identify content inside the video. Prior to this, publishers were able to add or remove tags using the edit video mode.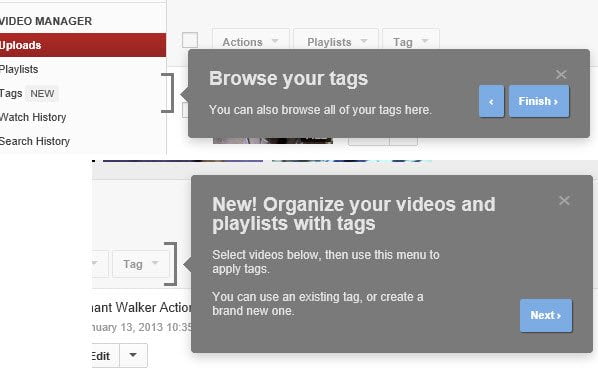 There are distinct advantages of this feature:
First you get to know what kind of tags keywords you had been using in the videos.
You can find which tags are already included in any video without opening it.
Lastly you can add tags in bulk. Just select a video, select a tag and add it. This is very similar to how labels work in Gmail.
Features of Tag Management in YouTube
List of Tags :
Tags are also available on the sidebar where you have Inbox, Uploads etc. This gives you a list of tags you have been using along with the count of videos that use that particular tags.
Instead of loading all the tags, YouTube only loads top tags. However, you can load them on demand or use the sort feature. The sort feature lets you find tags which are used less or you can sort them alphabetically.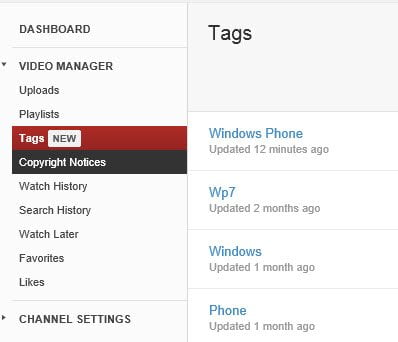 Apart from this, you can also view when was a particular tag update. This in short means when was a video added to that tag.
Arranging your video listing according to tags
Here is another cool feature of tags.  It is possible to choose which video appears in which sequence.  So If, you want to move a video to top in a tag list,  you have a direction option.
As of now there is no drag and drop like feature you can use to arrange them one after the other. However, you can decide the order and use move to top option to arrange them.
However I find this option bit confusing because there is no way to create a playlist using Tags. So why would one like to rearrange ?
Deleting a Tag:
It is also possible to delete a tag. To get this done, you will have first remove tags from videos which are using it and then use Delete Tag option.
Add Playlist to Tags:
This sounded almost opposite, but it's possible to tag a playlist. We have been doing this even before when creating a playlist but this is more convenient now.