YouTube recently updated (again) its YouTube Channel design for all the publishers. Looking at it, it is definitely headed towards a better way and for all devices like TV, Mobile and PC.
In this design, when you visit the channel, you will see a couple of sections already listed. These are playlists, new uploads, most viewed videos of your channel.
Now when I first saw it, I wanted to change it. It was displaying videos which were either old or was not just right. I wanted a better control on which videos should be displayed. This is important as I want my viewers to get the best videos. This is helpful for them and also for me. This way you can not only get more views but also retain more viewers as subscribers.
Re-Arranged Sections:
This was tricky at first sight. If you want to change the order of sections in your channel, you do have a drag and drop support. It is just not straight forward.
When you hover your mouse over any of the section, it changes the colour to grey, and you get to see menus. Now, if you look at the extreme left of that section, you will see a bit darker border.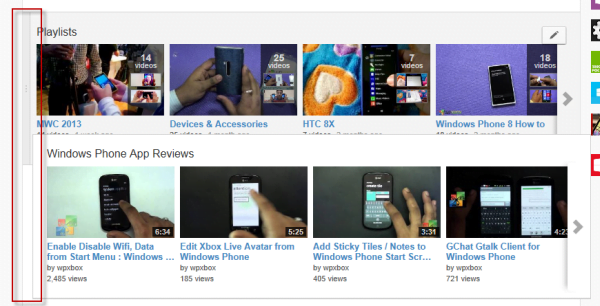 This is similar to many other interface Google uses. If you hover your mouse over it, you can actually drag and move them up and down. This way you can make sure the viewers see the videos you want to show them.
Use Tags to show video you want:
When Tag management was first introduced, I could not find the option to make it useful. There was no option to create a playlist for it either.  However, when this channel redesign was rolled out, I understood.
Now, if you want your viewers to see your best videos and nothing else, you can make use of Tags in your Channel. When you add a section, you also have an option to create them based on Tags. So follow the steps:
Select Videos you want your viewers to see.
Create Unique tags for them and add these tags to respective videos.
Now go to your channel and click on Add Section. You will find this at the very end of the channel.
When creating section, choose Tag in content and select tag you want to display.
You can also give it a proper name.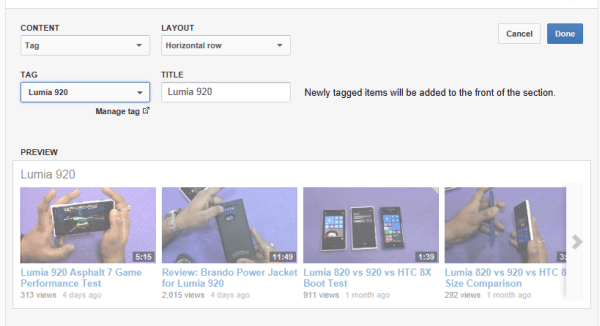 Now combine this tag management with section re-arrangement tip. This way when somebody lands on your channel, he gets to see only best videos or videos you find is best suited for them.