When Asus launched the Zenfone Series, Zenfone 4 looked very promising because of the features and overall quality it delivers at the price point of Rs 7,000 or $ 115. I had also tested Moto E which is at the same price and we could not resists comparing it with Zenfone 4. So in this post, I am reviewing the Zenfone 4 and comparing with Moto E as well to help you guys.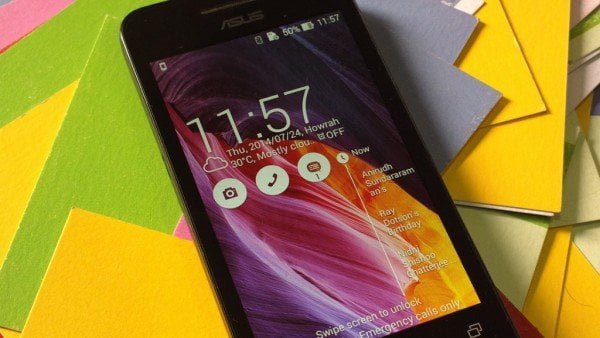 Video Review
Screen & Display  :
Zenfone 4 houses a 4 inch, WVGA 800×480, TFT with Capacitive, technically, and what happened when we tried it for a week?It turned out to be smooth if not really very good.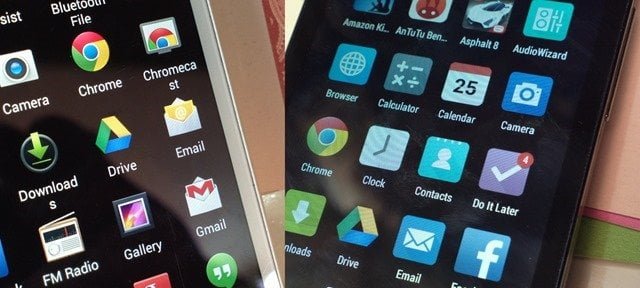 Moto E Comparison
The display of Moto E is sharper and more vibrant compared to Zenfone 4. I have my folks using it and when I gave them to try Zenfone 4, they found it dull. Moto E screen is 4.3 inches, with 540 x 960 qHD, 256ppi.
Response of Zenfone 4 is superior: Zenfone screen response to touch is exceptional. Its very fast and there is no lag even when you keep swiping at a high speed. You really have to give it to Asus for delivering such amazing experience.
Both the phone come with Corning® Gorilla® Glass 3, making sure you don't need a screen guard.
Build:
The overall build of phone is plastic which makes the phone very light and comfortable to use. We even looked it from the inside by removing the rear case and the feel is not that what we were looking for.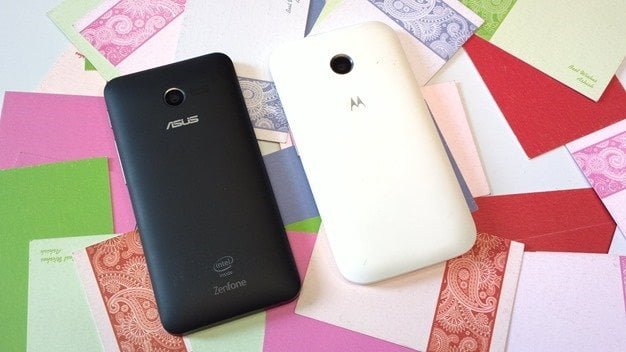 Compared to Moto E:
Moto E is one rock solid phone and we always appreciated this particular factor. You get a premium feel when using the phone, though it may feel a little heavy but its worth the experience.
The buttons on Moto E is much smoother and responsive.Many a times I found the Zenfone 4 and 5 buttons not responding as quickly as they should. I had to restart my phone a couple of times because of that.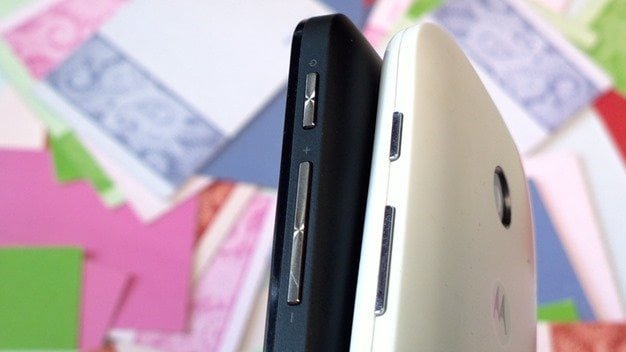 Performance
I have used Zonefone 4 for a week now and I am little disappointed. It lags at many places where it should not have like the native launcher. It takes a second to show up the app list, launch apps and games and sometimes it even hangs up.
Compared to Moto E:  Not sure if it's because of the Intel Processor, but Zenfone is terribly beaten down by Moto E which houses the Qualcomm® Snapdragon 200, which we have seen in many Lumia phones too and without any hiccups. I did not see Moto E lagging anywhere.
Camera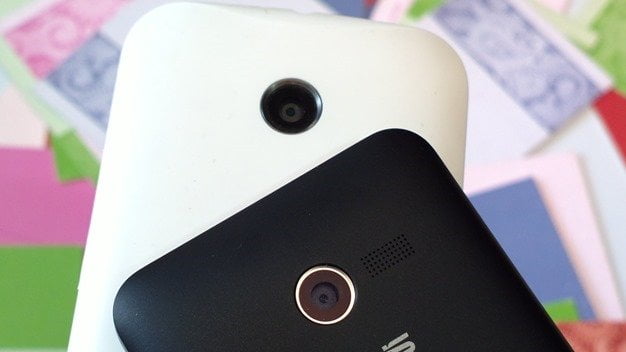 This is the second feature where Asus has done a brilliant job. Even though it comes with 5 MP camera without LED Flash, the magic of autofocus and Pixel Master delvers an excellent experience. The hardware and the software both work together to produce a picture which I have not seen in this range.
It comes with quick options for novice users i.e. Time Rewind, HDR, Panorama, Night, Miniature, depth field and so on. Even the video mode has features like Auto, Miniature and Time-lapse to help you shoot lively memories.  Here are some sample:
Compared to Moto E: Zenfone 4 wins big time here. Moto E camera is fixed focus and its worst than the point and shoot camera.
Battery:
When used in combination with Wifi, 3G and then on individual mode, the phone lasted for 10 to 11 hours. The usage includes apps like WhatsApp, Twitter, Facebook, Music and Gameplay for an hour. I had my Pebble also connected to it all the time which could have caused extra battery usage.
Compared to Moto E: It's almost the same and hence no extra points to anybody here. While Moto E comes with 1980mAh battery which lasts for 10 to 11 hrs. Zenfone 4 has 1560 mAh it lasted for same.
Gaming
Gaming on Zenfone 4 is no fun, primarily because of the average display. Even if we have to keep that apart, the graphics and performance did not deliver when tested with Asphalt 8 : Airborne. There were lags and hiccups, however there was no lag when there was wreck on both the devices.
Compared to Moto E:  When we compared it to Lumia 630, Moto E was looking dull, but when compared to Zonefone 4, it was better. There wasn't any performance issues either.
Music:
The speakers of Zenfone 4 aren't very loud and to my experience they overall quality over external speaker is on the lower side. However when you use it with an earphone, it's pretty brilliant and doesn't hurt your ears, even on full volume. Probably that's why they aren't very loud on speakers.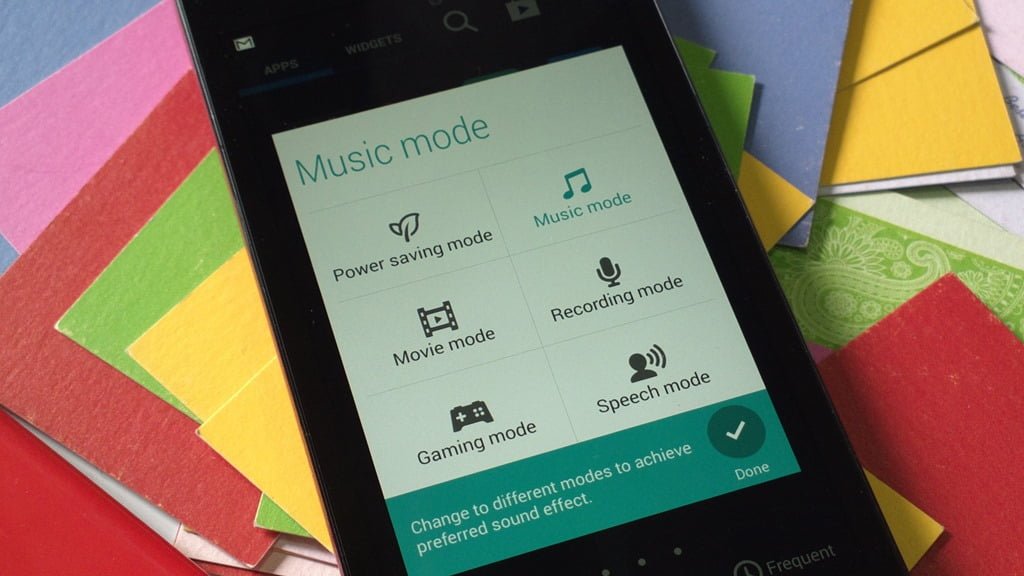 Compared to Moto E:  Zenfone 4 delivers better compared to Moto E here. I had used the same settings, same song and same earphones on both the device and Zenfone 4 quality is better.
Zen UI Features and Apps: 
The post is not complete without we talking about Zonefone UI which is different, better and with lot of value added features. We have talked about in detail here. Check out my detailed post and video to know all the features. I am summing up the unique features and apps below:
Conclusion:
That said, I have a very mixed experience of the device. When I look at the Zen UI Features, Camera, Touch Response, I feel like recommending the phone but looking at the app performance, slow launch puts me in a situation where I am not sure. However, if the Zenfone 4 performance issue gets addressed, it will fix up everything.
The KitKat version is awaited and we can only hope that these bugs can be fixed. I will pass on my experience to the Asus team and hope they can look at it.
[wp-review]