Before starting a project it is a common process to have the same folder structure with same file names ( which are common to the project ) to be ready. However it is also common that we miss to achieve it. The best bet is to get a copy from your partner and then use it as a base structure. But when you get a copy of such templates it just doesn't work right on your system.
Zero Zipper is a free application which helps you create an exact mirror of your folder and sub folders including file. This means each file which is available in your folders is also mirrored but they are all zero size i.e. dummy file. When you share  this with your partners it becomes easy for them to integrate this into an existing project as they are plan files without any settings or data in it.
Below is a video demo of How Zero Zipper Works. ( Direct Link )
Features :
Can create mirror structure from a folder with any number of files and folders inside it.
You can run multiple instances of this application to get your work done even faster.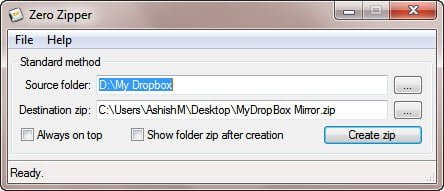 Download Zero Zipper