The Internet is a vast place, and it is simply not possible to comprehend all of it. There exist counties' websites and internet-based services that many people aren't even aware of yet, which are of great utility. However, the reason behind that is the seldom occurring need for them, just like the service-providing websites we will talk about in this article.
Zooming an image may not be something you often need, but there are services where you can upload high-resolution photos and zoom them as per your needs. However, before that, let's discuss the essential features you need to look out for when searching for websites like these.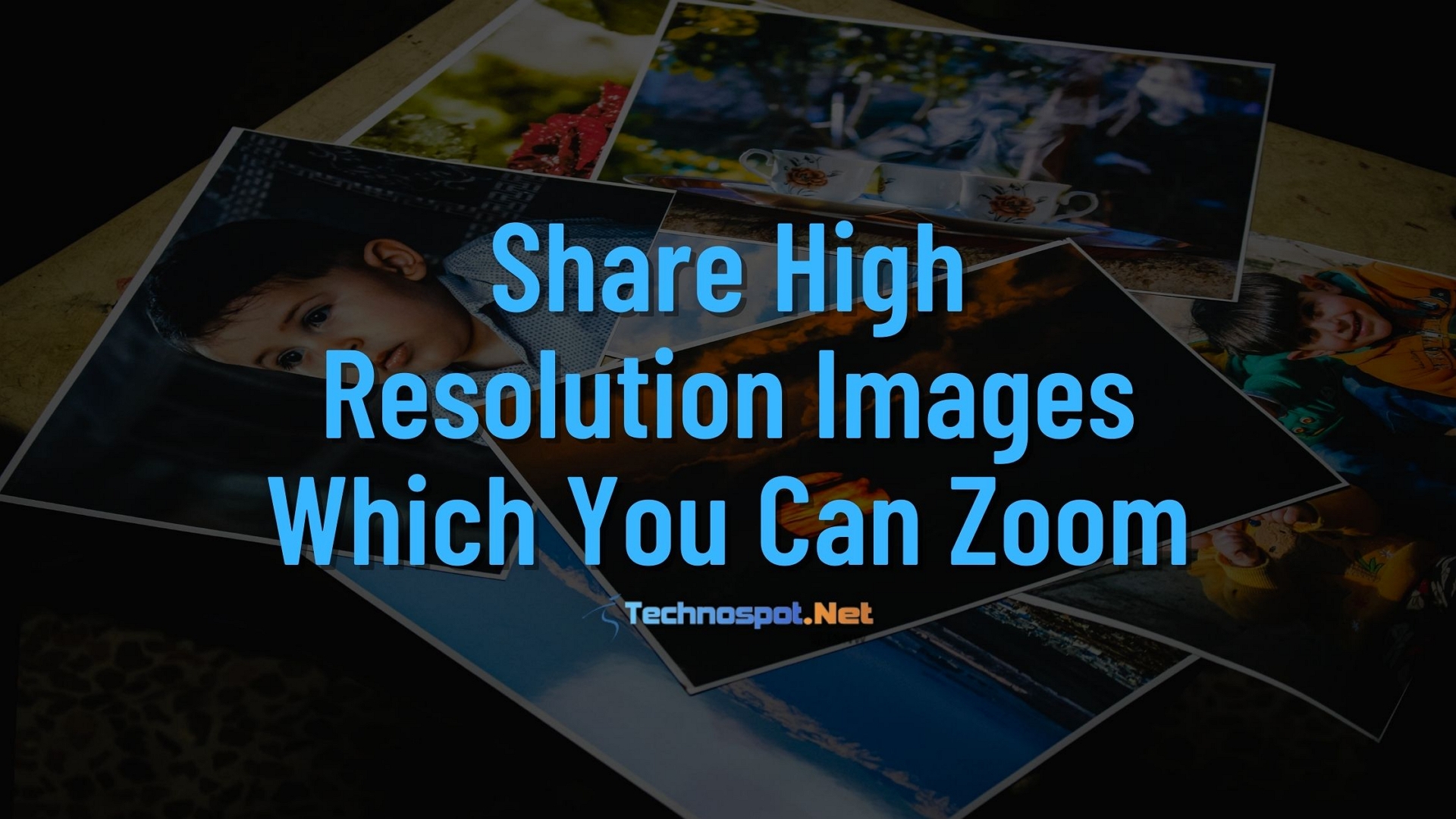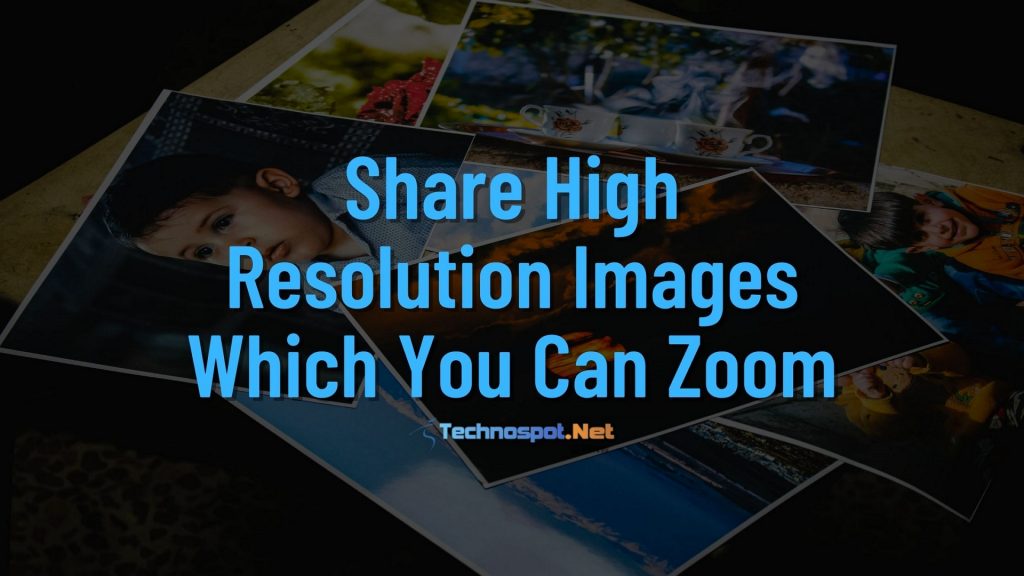 Features You Need 
The first and fundamental feature should support most image types and have no upload size limit. High-resolution pictures can be relatively more significant than most people would expect them to be, and that is precisely why service providers that allow you to upload and zoom a photo shouldn't have an upload size limit.
The other perk you should be on the lookout for is quality retainment. Some images may display tear and pixelated parts despite high resolution when forcibly zoomed in. That is the reason why the service providers that let you zoom high-quality images should be able to retain most of the initially uploaded file's quality, if not all of it.
Since the primary purpose of these websites or service providers is to let their users upload a high-quality image and zoom them to the maximum possible extent, the features of these service providers should be complementary to that. That is precisely why the websites we have shortlisted for presenting in this article are great at what they are meant to do, and you will not be disappointed by any of them.
Best Websites To Share High-Resolution Images Which You Can Zoom
Below given is the list of best websites like ZoomIt. Make sure you check them all. These websites are used by thousands of people every day.
Sirv
Easy Zoom
Zoomable
Let's know more about these apps.
1. Sirv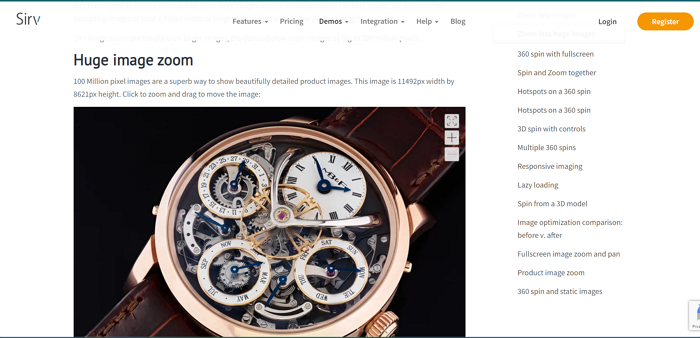 Sirv is a super quick website known best for producing great zoomed-in images. Sirv is an excellent solution for you if you're looking for a website that lets you zoom into super-high-resolution photos and offers you many other features that significantly increase its overall functionality. Imaging is what this website is best at, and you'll know it within a few minutes of using it.
One of the best perks about Sirv is that it produces astonishing results when the imagery in concern is related to art and decor. Sirv works well with any image and supports many image types, but it simply works the best for pictures concerned with art and decor. Sirv is also known for super quick processing of its images.
Sirv takes up roughly a mere 0.15 seconds to process an average image, and once that is done, it increases the processing speed even more and answers future requests in just 0.001 seconds. That is simply insane. By default, Sirv allows you to upload up to 32 MB file size, which can be increased upon request. 2,500px width or height and preferably 4,000px width or height are the ideal dimensions of image the website recommends to use for the best possible results. Of Course, you can use files of size and dimensions somewhere near that and still get great results.
2. Easy Zoom
As the name suggests, this website is your go-to solution for all your zooming high-resolution imagery needs. Easy zoom is a feature-packed service provider with more than just zooming in high-quality images. However, since high-resolution image zooming is our prime concern, let's talk about it first. All you need to do is find the high-quality image you want to zoom into, access the website of Easy zoom via browser in your PC or your smartphone, upload the desired image, and zoom it as per your choice. Easy zoom has support for over 10-12 image types, and it also includes support for PNG, PDF, and TIFF formats.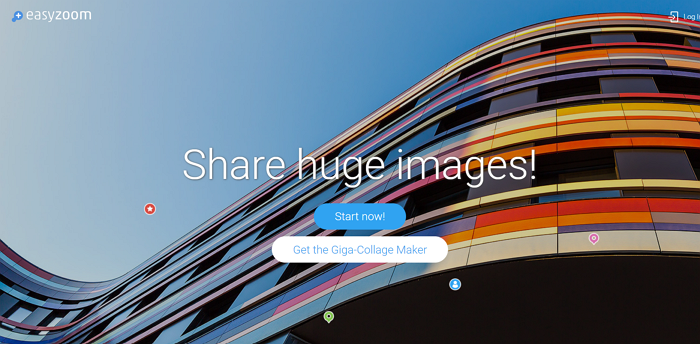 Easy zoom also ensures that the users accessing their website don't get bored by presenting them their catalog, which has a vast collection of super high-quality zoomable imagery that belongs to the categories like art, astronomy, photography, microscopy, etc. As far as the other features of Easy zoom are concerned, the most useful one is Annotations. Annotations feature lets you add several types of texts, images, links, and video clips to your uploaded file, giving it a whole new perspective. That is a great feature that lets you help the image express more vividly.
3. Zoomable
Zoomable is the third entry in our list of service providers similar to ZoomIt. Used across the globe by countless users, Zoomable lets you zoom into super high-quality images with ease as quickly as possible while retaining the original quality and ensuring that the picture doesn't show signs of tear and pixelation. It has a friendly user interface that makes it easier for people who're accessing the website for the first time to understand what it is about.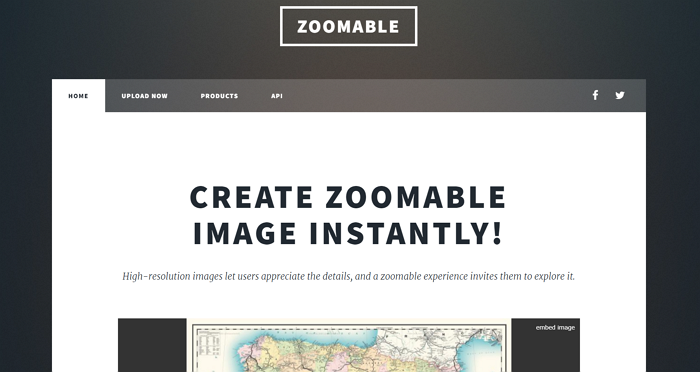 It produces images quickly, and the feature of interactive zooming and panning is cherry on the cake top. Zoomable is precisely what you need if you're looking for a website that is quick to process, provides excellent visual results, and is a great way to explore high-resolution images.
Conclusion
This article discussed some of the best websites that let you upload high-quality imagery and view them in a new light by zooming them to a great extent. We want to conclude that the websites listed in this article are exceptionally adept at providing you with some great zooming experiences, and we recommend getting to know all of them before you decide which one among them suits your needs the most.
What Is the Best Way to Share High-Resolution Photos?
The wrong way to send is using photo service. All of them compress photos and hence reduce the quality. If you want to keep the resolution the same way, the best way is to use Google Drive, Dropbox, and other file-sharing services.
How Do You Send High-Resolution Photos on iPhone?
If you do not want to use any file sharing service, you can use the iPhone Mail app to attach the file and send it across. If you send it through MMS or any other service based on the cellular network, the quality will degrade.